Find News by Subject:
If you happen to live outside of Germany, you may soon find yourself paying a toll to do your best Burt Reynolds and Dom DeLuise impressions on the Autobahn.
Should you find yourself renting a Chevrolet Spark in Acapulco in the near future, beware: it won't have the same safety features — as in none at all — as the Spark exported to your local dealership. In fact, unless a car or truck screwed together in Mexico is bound for the United States or Europe, only the bare minimum, if any, in safety features will be available to customers in Latin America shopping for base models.
This is the Renault Zoe. It's like most EVs on the road, with its limited range, limited power, and limited usability.
Unlike the other EVs, however, the Zoe comes with DRM attached to its battery pack. In short: If you value your ability to drive the Zoe at all, then you will submit to a rental contract with the pack's manufacturer. Should you fail to pay the rent or your lease term expires, Renault can and will turn your Zoe into an expensive, useless paperweight by preventing the pack's ability to be recharged, consequences be damned.
If you're one of the few, proud owners of the slightly angrier-looking 2014 Camaro, or one of the many to own the slightly less angry 2013 model, you may need to send it back to correct a problem. No, not spiders this time. The recall is about stickers. That don't stick.
Texting. Cellphones. Entertainment systems. All of these have been regulated in order to diminish distracted driving as much as possible. Google Glass may now be added to that list, courtesy of the California Highway Patrol via a speeding ticket that became more upon closer inspection.
It's one thing for Tesla Motors to be the Apple of motoring. It's another for Apple to be the Apple of motoring. The solution, according to one analyst: Apple should buy Tesla to remain profitable long after the gold rush of smartphones and tablets has disappeared from the rear view mirror.
One blah Monday morning, you're commuting to the anonymous office park some 90 minutes away from the bedroom community you call a home in your equally anonymous Toyota Camry Hybrid, listening to yet another story about Congress kicking cans down roads and/or some wacky antics your favorite DJs had the past weekend while you take another swig of that mermaid-branded caffeinated goodness.
Elon Musk, the real-life Tony Stark of our times, has quite the extensive résumé: Founder of PayPal, SpaceX, and Tesla Motors; billionaire investor of projects and businesses such as SolarCity and the preservation of Nikola Tesla's lab; inventor of the Hyperloop rapid mass transit concept; 007 cosplayer…
Yes, you read that right: Musk is a huge fan of the man who loves his martinis shaken and his women to have double entendre naming schemes. So much so, in fact, that he now has one of Bond's most awesome vehicles ever conceived.
Take a good look at the picture above. What do you see? If your answer is that you see three black Chevrolet Equinox "cute utes," you'd be wrong.
You won't be able to send to or receive from *.Cadillac, *.Chevrolet, or *.GMC, while friends of other brands, from Dodge through Toyota,  will have that pleasure. General Motors withdrew three applications for what is called a "generic top level domain" or gTLD. Oddly, the applications for Buick and the supposedly illegal Chevy are still on the books. Read More >
Former extreme ski world champion Guerlain Chicherit did what is called the first-ever unassisted backflip in a car. Strapped into a Mini Countryman, Guerlain had to maintain exactly 60kph and be full on the throttle on the ramp to land on all fours after a somersault.
A Norwegian driver took evasive action to avoid  a moose, only to hit a bear, Reuters reports from Olso.
According to the wire report, the driver spotted the moose on a country road near Hanestad, 225 kilometers north of Oslo, went around the animal, not realizing that a bear was following the moose.
What ever happened to the TTAC project car? Here is some inspiration of what to do to the poor Sierra. Joel Olsen from Norway converted a 1982 Ford Granada, the European epitome of blah, into a 1,700 horsepower monster. Read More >
An anonymous reader sent us these Erlkoenig photos. Apparently, they show a car in full leather get-up.
Since we have no idea what it is, we ask you for help. Read More >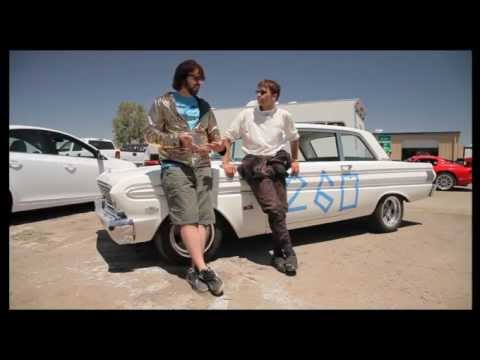 When I agreed to meet Hooniverse Editor-In-Chief Tim at Buttonwillow for an open trackday, I hadn't fully considered what it would mean to coach in a 1964 Ford Falcon. To begin with, the car doesn't have five-point belts; it has two-point belts. That's right. Lappies only, no shoulder. And the bench seat moved from ratchet-stop to ratchet-stop in every turn, sometimes twice. Oh yeah, and there was the fact of vintage crash "safety" to consider. (The shot around 1:10 is particularly cringe-inducing.)