Find News by Subject:
New spy photos of the 2015 Hyundai Sonata have emerged showing the upcoming sedan fully nude in its home plant in South Korea.
Whether you're in the market for an F-150 or an F-Type, you may have at some point used Google to learn all you could about your next car purchase. The Mountain View, Calif. company decided to make your quest for knowledge easier by unveiling their New Car Search feature as seen above.
I've always respected but never quite been a fan of P.J. O'Rourke's favorite AENSC, the Porsche 911, but our Editor in Chief pro tem is indeed a fan of that car, or at least of the classic air-cooled variety, if not the more recent versions (or, for the matter, the company that makes them). Hence, last summer when I saw that the Concours of America at St. John's had, as two of its judged categories, Porsche 911 Early 1963-1978 and Porsche 911 Late 1979-2013, celebrating the 50th anniversary of the Porsche icon, I knew that I'd be able to get lots of photos of 911s powered by boxers bereft of wasser for the EIC's enjoyment and yours as well. The cars pictured here span almost the entire 1963-1997 run for the air-cooled 911. The oldest one pictured here is a 1964 Cabriolet prototype, one of two extant 901 prototypes (the car was renamed before it went on sale to avoid a conflict with Peugeot, who objected to the three digit name with zero in the middle). The youngest is a 993 Targa from 1997, the final year for the air-cooled 911.
In addition to the street-going 911 cars, I've also included photos of some other significant air-cooled Porsches, Peter Gregg's 1977 Brumos Porsche 934.5, which won the Trans Am championship that year, sort of, and a 1964 Porsche 904, the midengine car Porsche built to go sports car racing in the mid-1960s, also known as the Carrera GTS, and a 906, which was developed from the 904. Read More >
BMW's replacement for the 1-Series has been revealed in its M form courtesy of leaked photos posted to an online forum after a dealer presentation, according the lads at Autocar.
It shouldn't come as much of a surprise that people who like unusual gullwing cars are people who like unusual gullwing cars. There are a number of car enthusiasts who own both DeLorean DMC-12 and Bricklin SV-1 cars and there appears to be a sense of camaraderie as well between DeLorean and Bricklin enthusiasts. I first realized this when visiting the Lingenfelter Collection, which includes both of those cars in a collection that's focused primarily on Corvettes, American muscle and Ferraris. Then, more recently, a couple of Bricklin owners decided to take in the Woodward Dream Cruise, sharing the same north Woodward vantage point where DeLorean owners gather each year.
Photos courtesy of Cars In Depth
Foodies start restaurants. Most new restaurants fail. Gearheads' most common business dream/fantasy may be starting up a new car company. Those usually fail too.  The appeal has attracted diverse entrepreneurs with near addictive quality, and with nearly the same ruinous results as a physical addiction. For every Walter Chrysler, there is at least one Henry J. Kaiser. For every Colin Chapman there has been a least a couple of Malcolm Bricklins. Bricklin's own attempt to build a safety car was predated by that of Preston Tucker. Bricklin actually sold a lot more cars than Tucker ever did. That's not even counting the frauds like "Liz Carmichael" and the Dale. Powell Crosley Jr. also caught the car building bug, and was both more successful and more influential than most of those dreamers. Read More >
While I personally find the Ford GT based GTR1 that Galpin Auto Sports will be selling for a million dollars rather inoffensive, a number of the Best and Brightest expressed some distaste for styling of the 1,000+ horsepower, twin turbo 225 MPH (estimated) supercar. Even some of those that didn't necessarily dislike the GTR1 said they still preferred the looks of the GT. I happen to agree. As a matter of fact, this is going to sound like heresy to some folks, but I think the Ford GT is even a better looking car than the original Ford GT40.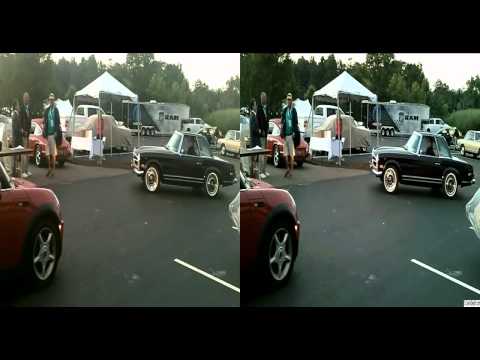 This is at least my third, maybe the fourth, attempt at writing a post explaining why, if you're a car enthusiast of any stripe, you owe it to yourself to attend a first rate concours. I first started writing it after seeing a real baby seal Jaguar D Type, the kind of car that you would normally only see in photos, videos or in museums, actually being driven after the end of the Concours of America at St John's last year. Okay, so the D Type was being driven off the show field to a trailer in the parking lot but it was still being driven. Still, after those attempts, I just didn't think I was doing the subject justice so I never submitted any of them for publication. Read More >
One of the things that makes Murilee Martin's Junkyard Find series so engaging is not just his fine writing and photography, it's the elegiac nature of the subjects and their settings. As with any elegy it's hard to come away without a sense of sadness, at what was and is no longer and at what could have been and never was. I was uploading some images for a post that I was writing and I noticed that Murilee was working on another Nash Metropolitan Junkyard Find. The "little Nash Rambler" is such a cheerful, happy looking car, one that never fails to bring a smile to faces of both their drivers and those who see those drivers motoring around in their Metropolitans, that they look particularly forlorn sitting waiting to get recycled into scrap steel. I thought that some of you might enjoy seeing some Metropolitans that are treasured, not trashed. Read More >
If you're an average Mopar enthusiast you may be wondering what the front of a Plymouth Valiant is doing on a 1963 Dodge Dart. Unlike urban legends about cars with front ends from one brand and rear ends from another of that automaker's brands that was being built on the same assembly line, and unlike custom car mashups, this was factory built and sold by authorized dealers.
If you were born after the Beatles first appeared on the Ed Sullivan Show you can be excused for not knowing this, but  Dodge Darts and Plymouth Valiants weren't always badge engineered twins. In 1963 they were more like bigger and smaller brothers, with an odd Canadian cousin in the family.
Since I'm the guy who generally won't take photographs of '69 Camaros and '57 Chevys (well, unless they're really special '69 Camaros and '57 Chevys ) and who will walk past 5 "Eleanor" Mustangs to look at one American Motors Hornet, it should come as no surprise that for the past couple of years I've made it a point to attend the annual Orphan Car Show held in Ypsilanti, Michigan's Riverside Park. This year was the 16th iteration of the OCS, which is affiliated with Ypsi's Automotive Heritage Museum. With a number of century old (and older) brass era cars at the event, it's not surprising that some of them had to be started with hand cranks. What is surprising is that not all the crank starting cars dated to before World War One. Actually, a couple of them date to the Vietnam War era and later.
After years of retrenching, financial crisis and bankruptcies, the world's automakers are now introducing new concept and production vehicles. The 2012 NAIAS in Detroit was one of the more product-rich big auto shows of the past decade. Just about every exhibitor at the show was revealing all-new vehicles or concepts giving us a look at future production plans. Cadillac's 3 Series fighter, the ATS, Lincoln's all new and attractive MKZ, Ford's Aston-Martin looking Fusion and Chrysler's Alfa Romeo based Dodge Dart were all significant new introductions by the domestics. Toyota showed concepts that will probably end up as the next Camry and Prius (plus Lexus' stunning LF-LC concept that will most likely not see production). Mercedes introduced the first all-new SL roadster in a decade.  Hyundai showed the highly anticipated Veloster Turbo. I could go down the list of exhibitors with other examples but you get the idea: lots of significant new product. However, over at the far end of Cobo Hall, tucked away upstairs in a corner of the Lincoln exhibit, was probably the most significant car of the entire show.  I suppose you could call it a concept car, but it represents a concept that is larger than just the design of one individual car. It's one of the cars that can be said to have been part of the invention of automotive styling. I think that makes it the most significant car, new or old, at the 2012 NAIAS. Read More >
It should come as no surprise to anyone that Look At What I Found! was inspired by Murilee Martin's original Down On The Street series over at Jalopnik. For today's installment I'll be performing a trifecta of plagiarizing M&M's work because we'll be talking about not just a car I found when out and about, but about an exact model that Murilee covered in a Junkyard Find, with a side dish of Nice Price or Crack Pipe, another car blog staple that sprang, Athena-like, from the fertile mind of our own 'Ms. Martin'. The main difference between Murilee's find and mine is the car's condition. Murilee's was ready for the crusher,  but this one belongs in a museum, showing only 18,000 original miles on the odometer. With a little detailing it could win a prize at a car show, maybe even a concours. That's not much of an exaggeration. Other than the barest hint of surface rust inside one of the rear wheel wells and the door hinges, the body is flawless. No dents or dings or any sign of damage. The interior looks just about brand new. The carpet by the driver's seat shows minor wear but the pedals are not worn at all. The kick panels on the doors look like they've never been kicked. Other interior panels look similarly pristine. The back seat appears to never have been occupied, certainly not by any enfant terrible scribe pitching woo at an autojourno's wife.
Photos courtesy of Cars In Depth
Every year, the Ypsilanti Automotive Heritage Museum sponsors the Orphan Car Show, dedicated to vehicles, brands, and companies that are not with us anymore. Lots of oddball cars and classes means lots of graphic content for Cars In Depth and maybe an article or two at TTAC. It looks like there are more than 800 images on the memory cards so it's going to be a bit before I get them all processed and winnowed for a proper report on the show for the Best & Brightest. Still, as I've said before, you never know when you're going to find an interesting car or something else automotive worthy of note. Driving to the Orphan show I decided not to take the Interstates and instead took winding two lane roads out to the Ann Arbor / Ypsilanti area. I wasn't sure about an intersection and ended up going a couple of miles in the wrong direction. On the way back I noticed a home with a bunch of old Fords in front of the garage. There were a couple of 1970s vintage LTDs, two Fox body Mustangs, and a Pinto. One of the Mustangs has current license plates and looks like it's a daily driver. The rest of the cars appeared, from a distance of about 100 feet, to be solid restoration candidates, but they had the look of "when I get the time" projects. What really caught my eye, though, was the yard sign standing by one of the big Ford sedans: "Cars NOT For Sale – Don't Ask!". It's enticing to wonder what's out of sight in the garage, but it's still a nice collection of Fords.
Photos courtesy of Cars In Depth
About a year ago TTAC ran a two part piece of mine on Carroll Shelby's Cobra and Bill Thomas' Cheetah, which some say could have been Chevy's parry to Ford's Cobra. The formula was pretty much the same, put a big block engine in a lightweight tube frame car, covered in a minimal but viscerally sexy body. The Cheetah is derivative. I see elements of E Type Jaguar, Devin, Cobra Daytona Coupe, and maybe some Corvette, but it works very well for me and is a very distinctive shape. Thomas, though, didn't originally intend the Cheetah as a racer, but rather as a boulevard cruiser, so the frame and suspension weren't really up to competitive racing. While the Cheetah won eleven SCCA races, it never developed a racing pedigree like the LeMans winning Ferrari vanquishing Cobras. Then GM stopped selling Thomas engines and he decided to walk away from the project.
A few replicar companies today offer Cheetahs in various stages of construction. The car has a bit of a following because of plastic models and slot cars back in the 1960s. Unlike the other firms building Cheetahs,  Robert Auxier established a relationship with the late Bill Thomas and was licensed by Thomas to build up to 100 "continuation" Cheetahs, made by BTM in Arizona using the original molds and fixtures. For safety reasons, the original's spindly frame was replaced with one made of larger tubing that is 33% stiffer, brakes were upgraded to modern units and the suspension was made fully adjustable. Auxier made a run of 31 cars before the severe recession put a damper on all kinds of car sales, not just hand fabricated high end replicars. It's not clear if he'll make any more but don't worry, recently two of those 31 cars have come up for sale on eBay, a coupe and a convertible, according to Autoblog. Sorry if you had your heart set on a Cheetah roadster, the convertible has been withdrawn from sale but the coupe is still available. I know, I saw it in person this afternoon.