Find News by Subject:
For Europeans who enjoy self-cleaning ovens and cats, and would prefer not to wash and wax their Nissan Note, Nissan in Europe has unveiled a Note for them that is resistant to dirt and oil by way of its new coating.
New spy photos of the 2015 Hyundai Sonata have emerged showing the upcoming sedan fully nude in its home plant in South Korea.
Whether you're in the market for an F-150 or an F-Type, you may have at some point used Google to learn all you could about your next car purchase. The Mountain View, Calif. company decided to make your quest for knowledge easier by unveiling their New Car Search feature as seen above.
I've always respected but never quite been a fan of P.J. O'Rourke's favorite AENSC, the Porsche 911, but our Editor in Chief pro tem is indeed a fan of that car, or at least of the classic air-cooled variety, if not the more recent versions (or, for the matter, the company that makes them). Hence, last summer when I saw that the Concours of America at St. John's had, as two of its judged categories, Porsche 911 Early 1963-1978 and Porsche 911 Late 1979-2013, celebrating the 50th anniversary of the Porsche icon, I knew that I'd be able to get lots of photos of 911s powered by boxers bereft of wasser for the EIC's enjoyment and yours as well. The cars pictured here span almost the entire 1963-1997 run for the air-cooled 911. The oldest one pictured here is a 1964 Cabriolet prototype, one of two extant 901 prototypes (the car was renamed before it went on sale to avoid a conflict with Peugeot, who objected to the three digit name with zero in the middle). The youngest is a 993 Targa from 1997, the final year for the air-cooled 911.
In addition to the street-going 911 cars, I've also included photos of some other significant air-cooled Porsches, Peter Gregg's 1977 Brumos Porsche 934.5, which won the Trans Am championship that year, sort of, and a 1964 Porsche 904, the midengine car Porsche built to go sports car racing in the mid-1960s, also known as the Carrera GTS, and a 906, which was developed from the 904. Read More >
BMW's replacement for the 1-Series has been revealed in its M form courtesy of leaked photos posted to an online forum after a dealer presentation, according the lads at Autocar.
It shouldn't come as much of a surprise that people who like unusual gullwing cars are people who like unusual gullwing cars. There are a number of car enthusiasts who own both DeLorean DMC-12 and Bricklin SV-1 cars and there appears to be a sense of camaraderie as well between DeLorean and Bricklin enthusiasts. I first realized this when visiting the Lingenfelter Collection, which includes both of those cars in a collection that's focused primarily on Corvettes, American muscle and Ferraris. Then, more recently, a couple of Bricklin owners decided to take in the Woodward Dream Cruise, sharing the same north Woodward vantage point where DeLorean owners gather each year.
Photos courtesy of Cars In Depth
Foodies start restaurants. Most new restaurants fail. Gearheads' most common business dream/fantasy may be starting up a new car company. Those usually fail too.  The appeal has attracted diverse entrepreneurs with near addictive quality, and with nearly the same ruinous results as a physical addiction. For every Walter Chrysler, there is at least one Henry J. Kaiser. For every Colin Chapman there has been a least a couple of Malcolm Bricklins. Bricklin's own attempt to build a safety car was predated by that of Preston Tucker. Bricklin actually sold a lot more cars than Tucker ever did. That's not even counting the frauds like "Liz Carmichael" and the Dale. Powell Crosley Jr. also caught the car building bug, and was both more successful and more influential than most of those dreamers. Read More >
While I personally find the Ford GT based GTR1 that Galpin Auto Sports will be selling for a million dollars rather inoffensive, a number of the Best and Brightest expressed some distaste for styling of the 1,000+ horsepower, twin turbo 225 MPH (estimated) supercar. Even some of those that didn't necessarily dislike the GTR1 said they still preferred the looks of the GT. I happen to agree. As a matter of fact, this is going to sound like heresy to some folks, but I think the Ford GT is even a better looking car than the original Ford GT40.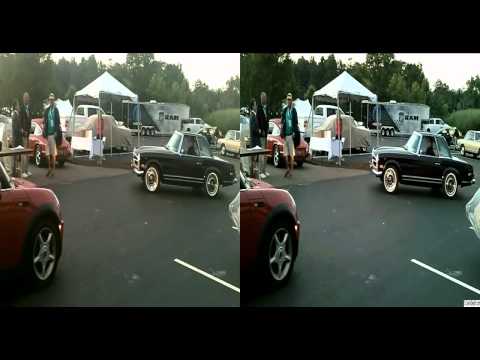 This is at least my third, maybe the fourth, attempt at writing a post explaining why, if you're a car enthusiast of any stripe, you owe it to yourself to attend a first rate concours. I first started writing it after seeing a real baby seal Jaguar D Type, the kind of car that you would normally only see in photos, videos or in museums, actually being driven after the end of the Concours of America at St John's last year. Okay, so the D Type was being driven off the show field to a trailer in the parking lot but it was still being driven. Still, after those attempts, I just didn't think I was doing the subject justice so I never submitted any of them for publication. Read More >
One of the things that makes Murilee Martin's Junkyard Find series so engaging is not just his fine writing and photography, it's the elegiac nature of the subjects and their settings. As with any elegy it's hard to come away without a sense of sadness, at what was and is no longer and at what could have been and never was. I was uploading some images for a post that I was writing and I noticed that Murilee was working on another Nash Metropolitan Junkyard Find. The "little Nash Rambler" is such a cheerful, happy looking car, one that never fails to bring a smile to faces of both their drivers and those who see those drivers motoring around in their Metropolitans, that they look particularly forlorn sitting waiting to get recycled into scrap steel. I thought that some of you might enjoy seeing some Metropolitans that are treasured, not trashed. Read More >