Categories:
In an effort to sell their wares to Western markets, Geely and their subsidiary Volvo have teamed up to build a subcompact global car aimed at offerings from Ford, Honda et al.
Barring a last minute campaign from another manufacturer, Toyota will be number one in recalls on the American market for 2013. This will be the second year in a row that Toyota has topped the recall rankings. Since the 2009 sudden unintended acceleration controversy, Toyota has led the nation in recalls every year except 2011.
The Brazilian auto industry has been on edge for a week and a half, as the Economic Ministry announced that the mandate for airbags and ABS on all Brazilian cars in 2014 was "under review". Citing worries over inflation (as car prices make up an infinitesimal part of that complex calculation) and the fact that auto sales were down, the Economic Ministry said that the 2014 adoption of the aforementioned equipment might not be in Brazil's best interest.
Should you find yourself renting a Chevrolet Spark in Acapulco in the near future, beware: it won't have the same safety features — as in none at all — as the Spark exported to your local dealership. In fact, unless a car or truck screwed together in Mexico is bound for the United States or Europe, only the bare minimum, if any, in safety features will be available to customers in Latin America shopping for base models.
TTAC Commentator furhead writes:
Sajeev,

A while back I had written in with a question about which is the best wagon to get. The advice was great, but I didn't follow any of it. We ended up with a 2005 Camry SE simply because it was too good of a deal to walk away from. The car is fine…and I guess that is the problem. That is all it is: fine. Except for the seats, they suck. The front seats are by far the worst seats that I have ever had to travel in. Any ride longer than 1 hour requires a bottle of Advil nearby in order to make it through.

So now, after living with two children for some time now, my wife and I have a better idea of what we need and don't need, and we are coming to the realization that we don't need a car that neither one of us likes and makes our backs hurt on long drives. (Read More…)
On the off chance that someday you might walk into your local Ford dealership in Kalamazoo and buy a Brazilian-built Ford EcoSport, at least you now get the ease of mind that it got five stars from Latin NCAP, the institution that tests cars sold in Latin America, in Germany, using pretty much Euro NCAP standards. So it would seem that, as TTAC has previously reported, Brazilian cars may not all be deathtraps.
My dad freaked out. We weren't going that fast when the old dump truck struggled out onto the road some distance ahead of us and it was a simple matter to just let off the gas and coast for a bit while the old truck worked its way up through the gears to the posted 35mph limit. The road in front of the construction site was a mess of mud and gravel and although I am sure my father didn't appreciate the muddy spray on the otherwise clean flanks of his Delta 88, he seemed rather unbothered about the whole event – at least until we finally closed the distance and drew up behind the big truck. It was then he read the scene in front of him and jumped hard on the brakes. As the old truck rumbled away he turned to me and asked "Did you see that?" (Read More…)
Propelled by the fastest-aging nation in the world, there may soon come a day when senior motorists will find themselves behind the wheel (or lack thereof) of a fully autonomous car.
If you've ever had the misfortune of flying across the country on Southwest, you know that Fate typically puts you next to a three-hundred pound man, a crying child, or a crying three-hundred-pound man. But last month I had the luck to share the long trip with a young woman who told me a very interesting story of cycling five hundred miles across central Florida. "It might be the liquor talking," I said, "but you should write this up for me. I run a famous car website. And you're very pretty." So here you go, TTAC readers: a cycling perspective on what is perhaps the least bike-friendly state. Enjoy! — JB
Pushing off, with a slightly, only slightly, bad taste in my mouth. The last words I'd heard prior to starting this adventure ringing in my head: "That's a terrible idea, it's absolutely not safe for cyclists, what if I drop you off on the trail head?"
Naaah — I can do this — it's MY home state, I know these roads better than anyone. Besides I live in New York City now. I can do anything! Not to mention, I took my first joy ride in a standard 88' Honda Prelude with my best friend Yent at 13 years old, cruised (at least that's what we called it in the early 90's) these roads, back roads and interstates in all kinds of vehicles. I own this! I am that American Girl riding down 441, except this time I'm on a bicycle, making my way to all of my favorite places. I left my father's Apopka house and proceeded in search for freedom, a place to ride with the rest of North Central Florida, experience the wind in my face, and reach a destination.
(Read More…)
As of October, the most fuel-efficient mid-sized sedan in America is the Honda Accord. Or so Honda says. After all, Ford has been trumpeting a matching 47 MPG combined from their Fusion. Who is right? And more importantly, can the Accord get Honda back into the hybrid game after having lost the initial hybrid battles with their maligned Integrated Motor Assist system? Honda invited us to sample the 2014 Accord Hybrid as well as a smorgasbord of competitive products to find out.
Seth writes:
Sajeev,

I own two cars – a 2003 A4 3.0 quattro with 81k miles and a 2005 Boxster S with 50k miles. Both were bought used and both have been relatively inexpensive to maintain (so far). I went ahead and replaced the timing belt on the A4 earlier this year due to the car's age, despite the fact the service manual doesn't call for a new timing belt until 105k mi (which would occur at 13 years old based on my annual mileage).

That said, my wife is about to have our first baby and this has called my car choices into question. The A4 is pretty small – too small for a kiddo and all her associated stuff – and the Porsche, well, that's a non-starter. Since I can't turn the airbag off, my kid wouldn't see the front seat of the Porsche until she's a teenager.

The question is: do I trade in both cars and buy a family friendly SUV (say a VW Touareg) or keep the Boxster and trade the Audi in on something a lot less expensive, yet still family friendly? I am torn – I really enjoy the Porsche.
Sajeev answers:
The National Highway Traffic Safety Administration stiffened its testing procedures in 2011. General Motors has announced that for the first time since those stricter standards have been in place its 2014 Chevy Silverado and GMC Sierra pickups have earned overall vehicle scores of five stars, the first fullsize pickup trucks to earn that rating. The 2014 Ford F-150 and 2014 Ram 1500 from Chrysler have four-star overall ratings. NHTSA hasn't yet released the rating of Toyota's new 2014 Tundra, scheduled to go on sale in late August, but the 2013 Tundra received four stars from NHTSA as did the outgoing 2013 GM trucks. (Read More…)

Between the A+ report card from Consumer Reports and a last-crossover-standing result for the IIHS small overlap test, even Tommy Callahan could sell somebody a Subaru Forester. "Here comes the meat wagon WEEE-OOO WEEE-OOO and the medic gets out and says, 'Oh my God'. New guy's around the corner puking his guts out – all because you wanted to buy a RAV4."
Factor in some much-improved fuel economy from a continuously variable transmission, and the sales figures are like spank-tra-vision to Subie execs: up by a third year-to-date. Holy shnikes! Is this the year the lovable approach hiking shoe crosses-over from niche product to all-round segment leader? Let's go camping. (Read More…)
In an interview with Automotive News (registration required), National Highway Traffic Safety Administration director David Strickland said that if automakers want to keep their cars and trucks from getting recalled, those cars must not just meet standards in effect at the time vehicles are produced, but that the car companies must also make sure they stay as safe, statistically, as competitors' products that use different designs.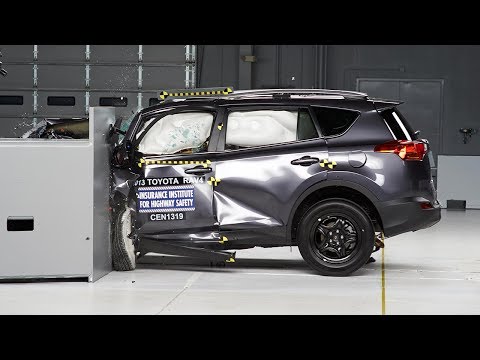 The 2013 Toyota RAV4, which underwent a major redesign earlier this year, was saddled with a "Poor" rating in the IIHS' "small overlap" front crash test, the lowest designation possible.