Categories:
The Ford Mondeo Estate is in trouble with one Swedish automotive publication, thanks to how much it weighs.
The National Highway Traffic Safety Administration is ready to force Takata and three of its clients into a nationwide recall over the catastrophic failure of the supplier's airbags.
In November 2014, for the first time in its six-month North American existence, the full-size Ford Transit was America's best-selling commercial van.
A number of special circumstances made the Transit's sudden rise to the top of the leaderboard possible, besides an increase in the number of available Transits and, yes, increased demand for the Transit itself. (Read More…)
A perfectly restored example of a 1964-66 Ford Thunderbird is worth plenty. A beat-up example, even a non-rusty California car, on the other hand… well, it's one of those cases where you can start with a thousand-dollar car, apply 15 grand to get it into pretty nice shape, and end up with a car worth $9,500. This cruel math is the reason that today's Junkyard Find was spotted at a San Francisco Bay Area wrecking yard a few weeks back. (Read More…)
2015 is only 15 days away, which means new contract negotiations between the Detroit Three and the United Auto Workers are coming, the main focus being the elimination the two-tier wage system implemented in 2007.
Chevy Trax, Jeep Renegade. Honda HR-V. Mazda CX-3. Nissan Juke. Fiat 500X. There's little doubt that the B-segment crossover is about to explode in North America. So, where is Ford in all of this?
Keep those Benzes, BMWs and Audis in the garage, son: $50,000-plus trucks and SUVs are where it's at for the ballers and players these days.
Ford reported in November 2014 the largest number of Mustangs sold in any November since 2006. With 8278 sold last month, year-over-year Mustang volume jumped 62%.
It was also the best month for the Mustang since May of this year, when monthly U.S. Mustang volume jumped beyond 9000 units for just the third time in 23 months.
Yet, "best since 2006," doesn't sound nearly as good to the Mustang fan base as, "nearly twice as popular as Camaro," does it? (Read More…)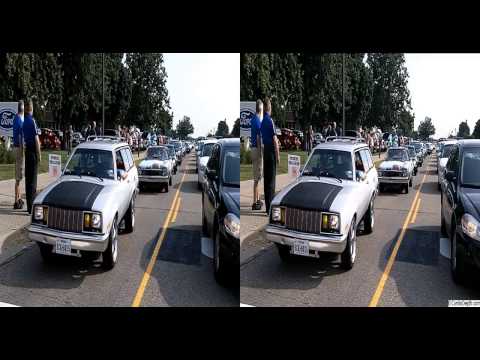 Start the YouTube video player. Click on the settings icon in the menu bar to select 2D or your choice of stereo 3D formats
Would you miss a parade of 50 Ford Pintos (well, 47 at least)? The cute little subcompact, oft demeaned as a fiery death trap due to lawsuits and controversy over how and where it mounted the fuel tank, does have its enthusiasts and for the past three years they've gathered for the Pinto Stampede, a car meet and fund raiser for the Wounded Warrior Project. This year the Stampede was held in Dearborn, Michigan and the proud Pinto pilots (alliteration is my friend) were reserved a special place of honor at the Ford Product Development Center employees' annual car show on the lawn in front of the PDC. (Read More…)
Joy to the world, MyFordTouch is dead. In its place, Ford introduced Thursday its new SYNC 3 connected-vehicle system.