Find Reviews by Make:
After California, today we study the most popular cars in another territory of the United States: the unincorporated territory of Puerto Rico.
Couldn't care less about what cars sell well in a Caribbean Island? Rude! But that's ok because you can check out new car sales data for 176 additional countries and territories on my blog. Go on, you know you want to!
Back to Puerto Rico below the jump!
Kia Rio
Check out the July 2013 Top 182 All-models and Top 28 All-brands rankings in Puerto Rico here
After two months of decline, the Puerto Rican new light vehicle market is back into positive territory in July 2013, up 2% year-on-year to 8,110 registrations, bringing the year-to-date total to 57,650 units, also up 2% on 2012.
The Toyota Corolla (7.4% share) and Yaris (6.2%) keep the lead but Kia delivers another outstanding month, #2 brand on the island for the 2nd time in a row thanks to 981 sales and 12.1% share and now #3 year-to-date. The Korean manufacturer places the Rio in third position in the models ranking at 434 units and 5.4%, up one spot on June while the Forte is down 4 to a still excellent #9 and 2.4%. The Toyota RAV4 also excels thanks to the new generation, up 4 ranks to #4 and 3.8%.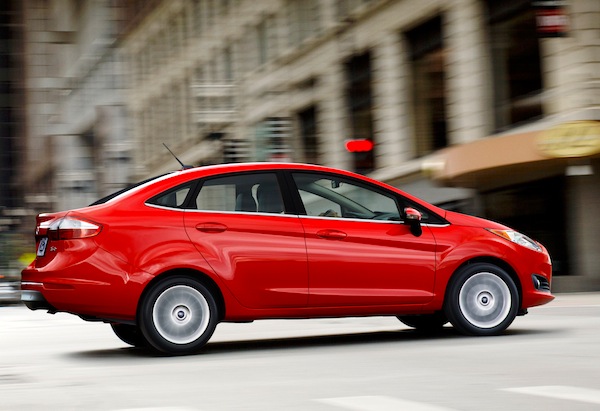 The Ford Fiesta manages a spot in the Top 10 in Puerto Rico this month.
Traditionally, US models don't sell well in Puerto Rico: luck if one manages to break into the monthly Top 10! So in this mediocre context, July is a relatively good month for American manufacturers, with 6 Yankees inside the Top 26 best-sellers this month. The Jeep Wrangler leads the way as usual at #7 (+2), followed by the Ford Fiesta, up an excellent 12 spots to #10, the Ford Escape at #19 (+6), Chevrolet Sonic at #22 (+11), Jeep Grand Cherokee at #23 (-5) and Ford F-Series at #26 (+8). Notice also the Mitsubishi Outlander down 6 to a still very solid #18, the Fiat 500 up an astounding 44 spots to #29, Mazda CX-5 up 8 to #32 and the Scion tC up 34 to #42.
Check out the July 2013 Top 182 All-models and Top 28 All-brands rankings in Puerto Rico here
That's all for today!
Matt Gasnier, based in Sydney, Australia, runs a blog named Best Selling Cars Blog, dedicated to counting cars all over the world.