Find Reviews by Make:
After one World Roundup interruption last week, let's resume our 'what the XXX bought in 2012′ series. After going to China, Europe, Russia, India, Israel, Italia and Indonesia, this time let's see what the French bought in 2012.
Not interested? That's fine I've got it all covered and prepared the best-selling models and brands in 172 additional countries and territories on my blog for you. Enjoy!
Back to France. And 2012 was a transition year for this market, with best-sellers that we will not see atop the ranking in the future anymore…
Toyota is one of the very rare carmakers to gain ground in 2012 in France.
Check out the Top 400 All-models and Top 63 All-brands in France in 2012 here
2012 was a very tough year for new car sales in France, down a worrying 14% on 2011 to 1,898,872 registrations, the weakest annual tally in 15 years, since 1997 when 1,713,030 vehicles were registered.
To illustrate this, the 8 most popular carmakers in France all lost ground year-on-year in 2012. Renault is still in the lead but drops by 25%, ahead of Peugeot (-17%), Citroen (-18%), Volkswagen (-6%), Ford (-20%), Dacia (-9%), Opel (-24%) and Nissan (-3%). Toyota is the first to shine at a shy +1%, followed by Audi (+5%), BMW (+4%) and Mercedes (+9%).
Renault Clio III
Check out the Top 400 All-models and Top 63 All-brands in France in 2012 here
Models-wise, 2012 was a year of transition with the end of life of the 2 most successful models in the country over the last 5 years – the Renault Clio III and Peugeot 207 – and the arrival of their replacement – the Renault Clio IV and Peugeot 208. As a result the ranking is a little meaningless, with the Renault Clio III holding onto the pole position for the last time but down 30% to an estimated 87,194 units. It ranked #1 each month up until June.
Check out the Top 400 All-models and Top 63 All-brands in France in 2012 here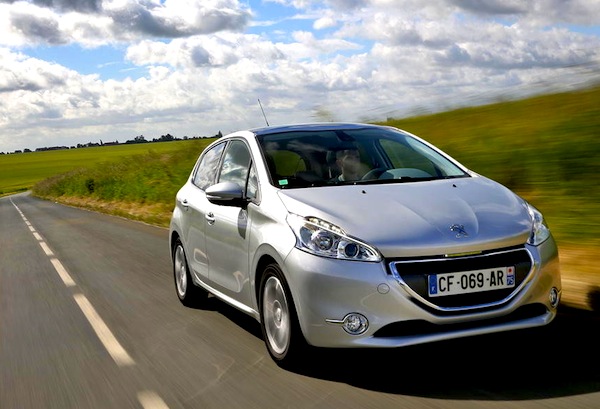 Peugeot 208
And this is perhaps the most striking characteristic of the French 2012 models ranking: not a single car managed to sell at least 100,000 units this year, for potentially the first time in 60 years! I estimate the Renault 4CV may have crossed that bridge in 1952 indeed…
Check out the Top 400 All-models and Top 63 All-brands in France in 2012 here
Launched earlier in the year, the Peugeot 208 had a jump start on the Clio IV: it broke into the monthly Top 5 in May (#5) and topped the ranking for the first time in July, repeating this feat 4 times and finishing the year at #2 with 66,368 sales and 3.5%. The Renault Clio IV ranked #4 in October and took the lead in November but was launched too late to have an impact on the FY ranking, finishing #26.
Here you can check out my forecast for the French market in 2013 when the Peugeot 208 and Renault Clio IV will be fighting for a top spot finish.
The Citroen C3 maintains itself onto the podium at 62,922 units and 3.3% (-21%), only the third time in the last 30 years after 1985 and 2011 that a Citroen is present in the year-end Top 3.
VW Polo
The VW Polo ranked within the monthly Top 5 no less than 3 times this year: in January (#4), November (#5) and December (#5), still the only foreign model to have ever managed that feat, at least since World War II. It is down 18% but up one spot to #7, its highest year-end ranking and the best-ever for a foreign model, also reached by the Ford Fiesta in 1985 and 1991. Notice also the Citroen C4 back in the year-end Top 10 for the first time since 2008.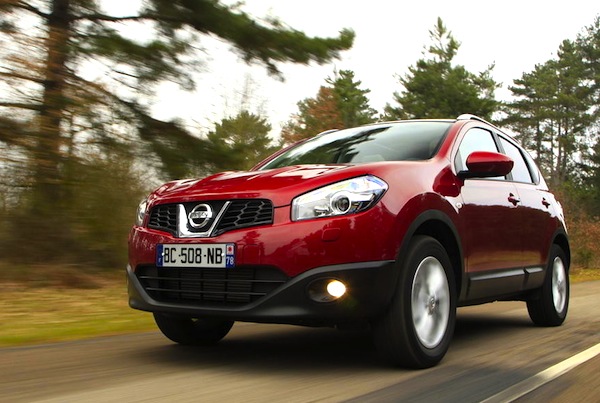 Nissan Qashqai
French consumers shied away from their usual favourites this year, with no model in the Top 15 except the all-new 208 gaining ground year-on-year! The Nissan Qashqai is shaping up to be one of the success stories of the last decade in France and Europe, up 4% and 3 spots on 2011 to #16 with 30,846 sales and 1.6%, beating its monthly ranking record no less than 4 times this year: in March (#15), July (#14), September (#13) and December (#12)! The Top 10 could be for 2013…
Check out the Top 400 All-models and Top 63 All-brands in France in 2012 here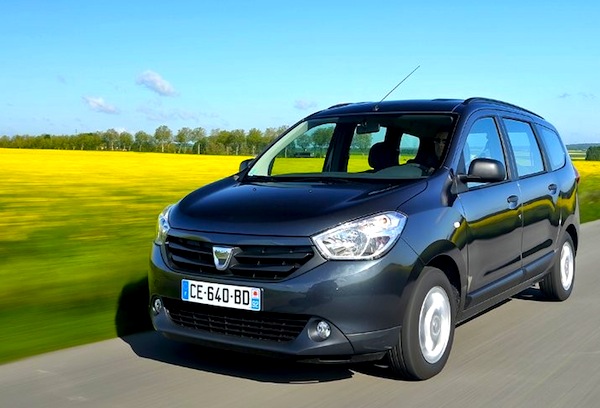 Dacia Lodgy 
Notice also the Dacia Sandero up 0.3% to #18, boosted by the new generation in December, the Toyota Yaris up 8 spots and 15% to #21, VW Tiguan up 18 and 54% to #23, Nissan Juke up 5% to #27, Audi A1 up 10 ranks to #35, Citroen DS4 up 31% to #37 and Mercedes B-Class doubling its sales and up 31 spots to #38. The Dacia Lodgy lands directly at #40 with 13,052 units and even broke into the monthly in Top 10 in August!
Check out the Top 400 All-models and Top 63 All-brands in France in 2012 here
Citroen C4 Aircross: success or disappointment?
Just outside the 50 most popular models, the Citroen DS5 is up 99 spots and 623% to land at #51 with 10,943 sales for its first full year in market, the Kia Sportage is up a solid 42% to #59, the Kia Rio up 152% to #67 (both models broke into the French monthly Top 50 for the first time this year), the Audi Q3 up 634% to #70, VW Up! up 2103% to #72, Hyundai i20 up 115% to #82, Range Rover Evoque up 247% to #89 and Hyundai i30 up 63% to #93.
Check out the Top 400 All-models and Top 63 All-brands in France in 2012 here
Only one additional newcomer finds its way into the ranking between the #51 and #100 spots: the Citroen C4 Aircross landing at #88 with 5,293 sales which is actually a relatively disappointing performance.
Boosted by end-of-life promotions, the Citroen C6 is up 106% in 2012.
Beyond the Top 100, the new generation VW Beetle is up to #105 for its first full year of sales, the Ford B-Max hasn't convinced yet and lands at #117, the Hyundai i40 is up a superb 475% to #121, even falling just 10 units short of the Renault Laguna in December, the Volvo V40 lands at #140, the Bollore Blue Car is up 287% to #149…
Check out the Top 400 All-models and Top 63 All-brands in France in 2012 here
…Peugeot iOn up 121% to #153 thanks to slashed prices, the Peugeot 4008 arrives at a weak #154, Citroen C-Zero up 107% to #157 and the Citroen C6 up a surprising 106% to #160 for its last year of activity: production ceased on 19/12/2012 after only 23,384 units were built since launch in 2005.
Ferrari FF
Now into prestige cars. The Porsche 911 is up a very healthy 43% year-on-year to #180, BMW 6 Series up 94% to #209, BMW7 Series up 18% to #229, Porsche Boxster up 55% to #241, Mercedes SL up 491% to #254, Lexus GS up 860% to #269, Infiniti M up 103% to #271, Bentley Continental GT/Supersport up 56% to #280, Ferrari FF up 115% to #299, McLaren MP4 up 83% to #327, Lamborghini Aventador up… 1000% to #328, Rolls-Royce Ghost up 50% to #332. Notice also the Chevrolet Camaro up 127% to #218 and the first 12 units of the Ferrari F12 sold, placing it at #343.
You can also check out the previous year's ranking:
France Full Year 2011: A Citroen on the podium for the first time since 1985
There you go! Now you know all there is to know about what cars the French bought in 2012.
Matt Gasnier, based in Sydney, Australia, runs a blog named Best Selling Cars, dedicated to counting cars all over the world.