Find Reviews by Make:
After travelling to Japan, Russia and the USA over the last week, this time I'm taking you to Iran where the automotive industry is experiencing a very eventful year…
The last time we went to Iran with Best Selling Cars Around The Globe was in April 2011 – in other words an eternity because at that time I didn't have access to official production figures, so it's time for a thorough update.
Not into 80s Peugeots and Kias (yes that's what the Iranians buy)? That's ok, you can discover the best-selling models in 167 additional countries and territories in my blog. Or today I can also offer you the Top 277 best-selling models in the USA over the first 9 months 2012…
Back to Iran.
Only local production data is available for Iran and not sales or imports. However these figures should portray a relatively accurate picture of car sales in the country as high import duties and the weakness of the local currency limits sales of other vehicles.
Iranian production figures for the month of Shahrivar 1391, roughly equivalent to September 2012 in the Persian calendar, show a drop of 66 percent compared to a year ago with a total of just 45,550 units produced. Year-to-date after 6 months in the Persian year 1391, only 396,422 vehicles have been produced, a 42 percent drop year-on-year.
Earlier this year and under the influence of new stakeholders General Motors, Peugeot announced they would stop the CKD assembly of cars in Iran. And this has been verified by production figures published by Iranian website www.ivma.ir. The Peugeot 405 (yes, the 1987 one) is down 60 percent year-on-year to #2 with 6,681 units produced…
…the Peugeot Pars (a variant of the 405) is down 83 percent to #6 with 1,369 units…
…and the Peugeot 206's production has virtually stopped with just 337 units produced this month, down 98 percent on September 2011. The Peugeot 207i (aka 206+) has stopped being produced in Iran.
As this wasn't enough to hit the Iranian auto industry in the guts, in the wake of the sharp devaluation of the Iranian rial vs. the US dollar and the inflation resulting from it, the government decided in July to set the price for domestic cars. Judging the prices too low, local manufacturer Saipa reacted by halving its production.
Saipa Pride
I can hear some of you say "Saiwhat? Who cares?" Yes but no. Saipa is one of two Iranian car manufacturers and they produce the Saipa Pride, a rebadged 1987 Kia Pride, at the unbelievable rate of (at least until July this year) 2,300 per working day! Halving production of the Pride almost means in effect halving Iranian's car production as a whole… and this is what's been happening since July.
For the first time since I have been following Iranian car production figures, the Saipa Pride has gone below 20,000 monthly units, down to 18,169 in September or 69 percent less than in September 2011…
Saipa Tiba
Saipa also produce the Tiba, down 52 percent in September to #7 and 1,413 units.
Iran Khodro Samand
The other Iranian car manufacturer is Iran Khodro, and although there is no announcement in the press of them also halving their production in protest, the production figures say it louder than any PR announcement. The company's main model, the Samand, "Iran's first car", saw its production drop by 60 percent year-on-year in September to 5,017 units (#4).
Iran Khodro Runna
Iran Khodro's other model on sale right now is the Runna, based on the Peugeot 206 sedan. The Runna is cranking up its production at the moment in spite of this gloomy environment and reaches 479 units this month, nearly double its August score and up one spot to #8. 910 Runnas have now been produced this Persian year.
In fact, the only company to benefit from this shaky environment is Renault. The French car manufacturer produces two models locally: the Tondar 90 (aka Dacia Logan), up to #3 this month with a production down 'only' 37 percent to 5,558 units…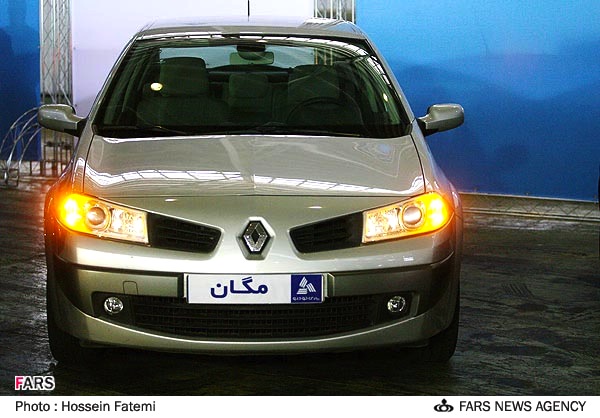 … and the previous generation Renault Megane which is the only model to see its production rise year-on-year, up 12 percent to 1,005 units.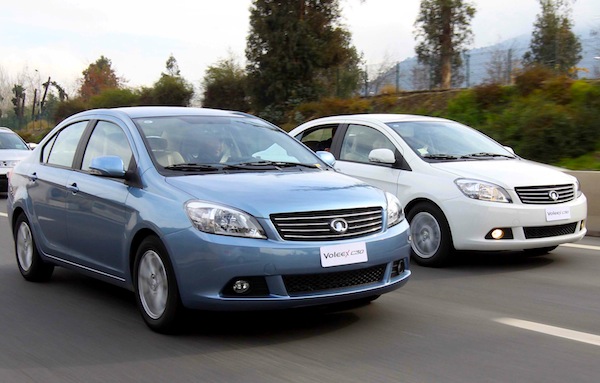 Great Wall Voleex C30
Another interesting element to note this month regarding Iran's car production is the presence of the Great Wall Voleex C30. The Chinese manufacturer has started small-scale local production of its sedan in Iran, with 91 units coming out of the factory this month.
Top 5 most produced models in Iran in September 2012:
(You can see the entire Top 15 here)
| | | | | | | | |
| --- | --- | --- | --- | --- | --- | --- | --- |
| Pos | Model | Sep-12 | /11 | Aug | 5m 1391 | /90 | Pos |
| 1 | Saipa Pride | 18,169 | -69% | 1 | 145,584 | -53% | 1 |
| 2 | Peugeot 405 | 6,681 | -60% | 2 | 61,704 | -17% | 2 |
| 3 | Renault Tondar 90 | 5,558 | -37% | 4 | 38,551 | -5% | 4 |
| 4 | Iran Khodro Samand | 5,017 | -60% | 3 | 50,732 | -24% | 3 |
| 5 | Saipa Tiba | 1,413 | -52% | 7 | 7,436 | -48% | 8 |
You can also check the Top 15 best-sellers in Iran in August here:
Iran August 2012: Saipa Pride below 20,000 units, Iran Khodro Runna #9
And the Top 15 best-seller in Iran one year ago here:
Iran September 2011: Saipa Pride excels, Peugeot 207i gears up
Matt Gasnier, based in Sydney, Australia, runs a blog named Best Selling Cars, dedicated to counting cars all over the world.