Find Reviews by Make:
One of the cool things about the SAE World Congress is that there's always at least a couple of radical new engine designs. Scuderi was back with their split cycle compressed air hybrid, only this time with a turbo that lets them use a much smaller piston on the intake side, reducing friction. FEV showed an engine optimized for compressed natural gas, with turbocharging, long intake runners, and a piston designed to increase turbulence. Two exhibitors were at the SAE for the first time. Grail Engine Technologies was showing their atmospheric-valve-in-piston engine that routes the induction through the crankcase and up into the combustion chamber.

FEV is a large company. Scuderi is a spin off from a maker of compressors. Grail is a startup but they have some venture capital behind them and a staff that includes respected engineering professors. The Doyle Rotary is one man chasing the American dream. Lonny Doyle is a machinist. He started out working for race teams and now owns Doyle's Fabrication, a machine shop serving the aerospace industry. Twenty-five years ago he started toying around with an idea for a new engine design, refining it to the point of getting a patent in 2001. Since then he's been building prototypes as his funds permitted.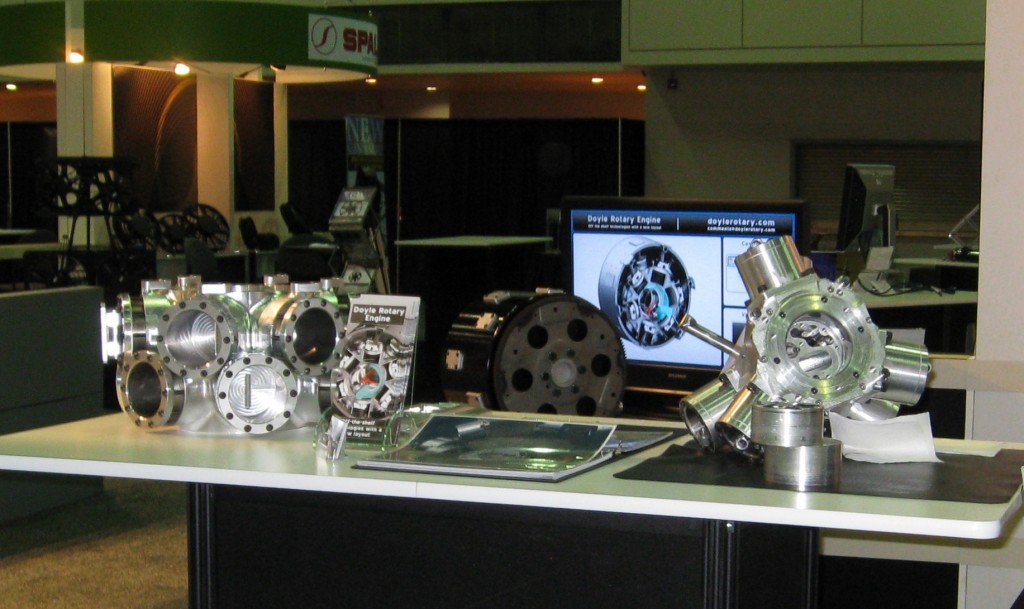 Doyle Rotary Engine. Photo courtesy of Cars In Depth
The Doyle is a rotary engine. Not like the Wankel, but like the early rotaries, a variation of the radial engine. At rest they look alike, but a radial is a conventional engine in that the crankshaft spins. In a rotary, the crankshaft is fixed and the crankcase and cylinders spin around it. Rotaries were used for World War One era biplanes, the most prominent one being Gnome. There has been at least one automotive application of the rotary. Adams-Farwell built 52 rotary powered cars between 1905 and 1912.  Their original production car had three cylinders spinning away above the rear axle, driving it with a ring gear. Animated Engines has a animation that shows you how the rotary works better than I'd be able to describe it.
Doyle's invention adds a couple of very novel twists to the  concept of the rotary. A conventional rotary has the piston facing outward, and the connecting rods are connected to the central crankshaft. Doyle flips the pistons around so they face the center of the engine. The connecting rods point outward and are anchored to the external case. The external case, the pistons, and the cylinder case all rotate around a central combustion chamber on an eccentric, causing the pistons to go up and down. If that wasn't novel enough, Doyle made it a split cycle engine, with two banks of pistons, one for intake and compression, the other for power and exhaust. Doyle says that with the cylinder case made of aluminum, rotational mass will actually be less than in a conventional engine of similar power. The Doyle engine has no valves. There's a port at the inward end of the cylinder that allows gas transfer into and out of the cylinders and the central combustion chamber. To keep everything in its place Doyle has used off-the-shelf Mazda Renesis Wankel apex and rotor seals. The latest prototype has a total of 12 cylinders with 4.2L of displacement and 6 combustion cycles per revolution. In a conventional 4-stroke engine each piston has a power stroke ever two revolutions. Doyle's engine is effectively a 4-stroke with each [power] piston having a power stroke on each revolution, though he calls it a Doyle Cycle engine.
They've gotten as far as running to failure. When fired in December of 2009 the latest prototype ran for a little more than 30 seconds but the seals ended up galling the aluminum and the engine seized. The next prototype will have steel inserts.
Doyle is not disheartened, since running to failure is itself a sign of progress. Encouraged by that progress he went public with a web site, YouTube videos, and booth at this year's SAE congress, hoping to drum up potential investors or customers.
I think what Doyle has accomplished is simply amazing, particularly in light of his limited resources. The other engines above are being developed by actual companies, in FEV's case an established automotive vendor. Doyle is doing this on the side from his day job and he got the engine to run.
I'm not the only one who is impressed. All the other engine innovators at the SAE show had been to Doyle's booth and were intrigued. More importantly, there was genuine interest from automakers. Doyle couldn't identify which one it was, but he said that one of the domestic automakers was interested enough that one of their engineers spent a half hour on the phone in front of his booth trying to get someone from the legal department in their headquarters down there. They told him that they'd rather he just put a curtain over his booth so nobody else could see it.
Scuderi kinetic cutaway:
Start the video, pause, then click on the 3D icon in the menu bar to select your choice of 3D formats or 2D
Grail Engine animation:
Scuderi running: