Find Reviews by Make:
The Jewish festival of Chanukah, pronounced Hanukkah by those who can't handle guttural phonemes, starts on the 25th of Kislev in the Hebrew calendar, which corresponds this year to the evening of December 6th. Chanukah is an event that should resonate with car enthusiasts — after all, it celebrates a miracle involving oil (well, that and a victory in a military/cultural/civil war with the Seleucid Greeks and Hellenistic Jews).
After defeating the Seleucids and reclaiming Solomon's Temple in Jerusalem, the Hasmonean Jews (aka Maccabees) found that there was only sufficient consecrated oil to light the Temple's seven branched menorah, which was supposed to burn continuously, for just one day. It took about a week to prepare and purify new consecrated oil and, as the story goes, that one small jar of oil miraculously burned for eight days, till there was sufficient new oil.
It's sort of like driving without changing the oil that came in your car from the factory and finding that the insides of the engine look pristine after 200,000 miles.
To celebrate and publicize the events of yore, Jews light candles for the eight nights of the festival, starting with one and adding another for each night. The candelabra used for Chanukah typically has nine branches, one for each candle and a ninth, called the shammas (sexton/beadle) that is used to light the others and sits apart from them.
Technically speaking, a nine-branched Chanukah candelabra is called a Chanukiah. The word menorah, from the Hebrew word for something that enlightens, is actually the name of the seven-branched candelabra that was used in the Sanctuary on the Temple Mount in Jerusalem, but today menorah is usually associated with Chanukah.
Actually, just about anything that burns fuel or can hold a candle or lamp oil can be used to make a Chanukiah, though it's preferred to use a fuel that burns cleanly as was used in the Temple, such as pure olive oil. When I was a kid, my father discovered that .38 bullet casings are the perfect size to hold commercial Chanukah candles.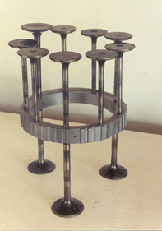 Later, friends of mine who served in the Israel Defense Forces told me of making menorahs of 25 mm casings from the coaxial guns of their armored vehicles and using those vehicle's diesel as fuel while in the field. Jews in concentration camps during the Holocaust scavenged what they could, in one case using shoe polish for fuel and thread from a camp uniform as wicks. Even a small light can chase away darkness.
TTAC colleague David Holzman has made decorative menorahs out of engine valves. They're considered  decorative because his "candlesticks" are arranged in a circle. To be a kosher Chanukah menorah, acceptable for ritual use, all eight lights have to be in a straight row and at the same level so you can see distinct flames.
As long as you have a place to keep the shammas, things that come in sets of eight are useful. Fortunately, because of eight cylinder engines, lots of car stuff comes in sets of eight. Murilee Martin thought an exhaust manifold from a straight eight might work.
I happen to think that velocity stacks improve the look of anything.
It doesn't necessarily have to come in sets of eight. Steve Lang suggested chrome exhaust tips, though those would take some pretty big candles.
Being a traditionalist I'm not a huge fan of electric menorahs, but I like the idea of a spark plug menorah, and a spark is closer to a flame than a light. I had a cool design that involved a V-8's distributor cap and wires going up to the plug that reproduced the shape of a classical menorah. I asked my colleagues for advice about wiring and high voltage switches. Murilee pointed out that there might be some liability issues involved in exposed 10,000 volt sparks. Perhaps I can use faux spark plug key chain fobs that use LEDs instead.
Other possibilities that come to mind: If budget isn't an issue, a menorah could be the cylinder block or head to a Duesenberg J. To economize, you could substitute something from Packard.
Or you could rig up exhaust flame throwers.
What car part would you use to make a menorah?
Note: This is a revised version of a post previously published at my own site.
Ronnie Schreiber edits Cars In Depth, a realistic perspective on cars & car culture and the original 3D car site. If you found this post worthwhile, you can get a parallax view at Cars In Depth. If the 3D thing freaks you out, don't worry, all the photo and video players in use at the site have mono options. Thanks for reading – RJS