Find Reviews by Make:
Hoping that you are all having a very Happy Holiday Season, my present to you guys today is the 9th installment of our much anticipated monthly rendezvous: the World Roundup.
If last month the focus was on China, Austria and Japan, in November all spotlights are on Brazil…
You can check out previous World Roundups here for March 2012  ("Has the Hybrid era started for good?"), April 2012 ("Big change coming from India"), May 2012 ("GM and Toyota Etios make headlines"), June 2012 ("Hyundai Santa Fe and Ford Focus shine"), July 2012 ("Geely CK writes history in Ukraine"), August 2012 ("The Subaru XV topples a legend in Switzerland"), September 2012 ("Ford Focus strong in China") and October 2012 ("One Japanese in the Chinese Top 50").
Had enough of the world and you just want to know which cars sell best in your own backyard? Easy. You can visit 171 countries and territories in my blog in the comfort of your own lounge. Just like that.
Back to our Roundup…
…And I was saying all spotlights are on Brazil this month.
Following the same trajectory as in Russia and India where it now regularly places a locally-produced model on the podium, Hyundai recently launched the HB (for Hyundai Brazil) range with the HB20 hatchback aimed directly at the VW Gol and Fiat Palio, the HB20X crossover just unveiled at the Sao Paolo Motor Show and a HB20 sedan due to launch in Q1 2013. All HB models will be produced at Hyundai's new plant in Piracicaba in the Sao Paulo state. With its new plant, Hyundai aims at going from #9 and 2.6% share in 2012 to #4 with 10% of the Brazilian market as early as by the end of 2013, passing Toyota, Nissan, Honda, Renault and Ford in the process!
The Hyundai HB20 is produced in Hyundai's new Piracicaba plant in Brazil
What seemed like wishful thinking only a few weeks back is now turning into reality. For its first full month of sales, the Hyundai HB20 breaks into the monthly Top 10 for the first time for a Hyundai in Brazil at #9 with 8,077 sales. Hyundai has received 50,000 orders for the model and believe it will sell 26,000 by end-2012, leaving a waiting list of 24,000 into the new year. The HB20 single-handedly pushed Hyundai up to #6 carmaker in Brazil in November at 4.7% share… While we are at it, the other big event in November in Brazil is the Chevrolet Onix already up to #11 with 7,409 sales. If you are a regular reader of my blog BestSellingCarsBlog you will already know that the Onix is up to #6 in at mid-December…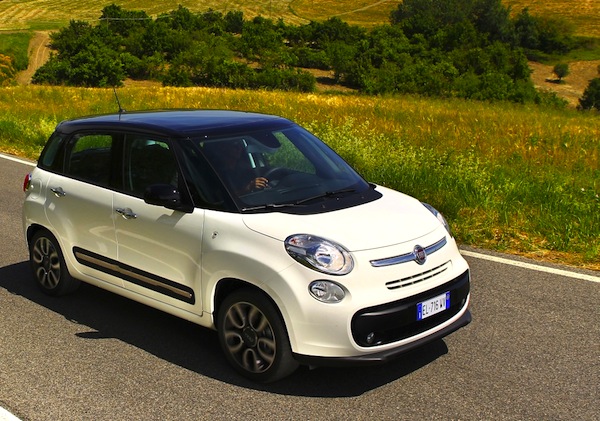 Fiat 500L
The 2nd big event on the world car sales scene in November is the Fiat 500L breaking into the Top 10 in its native Italy at #9 with 2,115 sales and 2% share only a couple of months after launch. Let's not get ahead of ourselves (yet), but it could be a case of the 'right car at the right time' for the Italian car manufacturer. Fiat's previous incursion into the mini MPV segment, the Fiat Idea, never ranked better than #11 at home in June 2005, a position the 500L has already beaten. Fiat announced the 500L will go on sale in over 100 countries worldwide, pretty much everywhere the 500 is on sale right now including the USA and Brazil which could become its biggest market in the world if produced locally…
The Honda CR-V is the best-selling Japanese model in China this month
We can't really go too far in our World Roundup without stopping in China, where events are 3-fold this month:
1. The Japanese manufacturers see their decline ease compared to September and October, with Toyota at -25%, Honda at -29% and Mazda at -30%. Japanese models are quietly back up the ranking with 6 of them in the Top 40 vs. just one last month: the Honda CR-V (#24), Nissan Sylphy (#29), Toyota Camry (#31), Corolla EX (#35), Corolla (#37) and Nissan Teana (#39).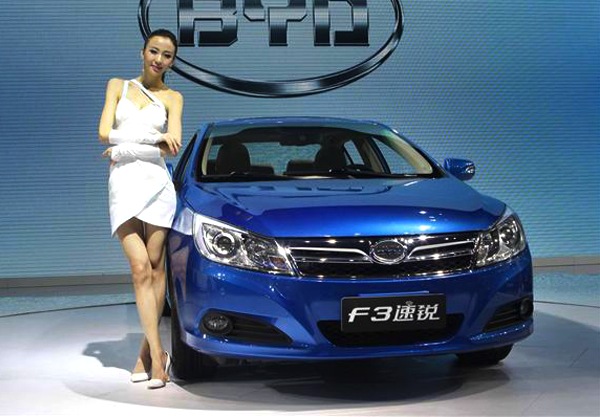 BYD F3 Surui
2. Chinese brands are doing better at home, grabbing 35.1% of the overall market, their highest penetration rate in 20 years! For the first time since last May, the Chery QQ is the best-selling local thanks to the new model at #14 with 16,670 sales, its highest ranking since April 2011 and its strongest monthly volume since… January 2010!  Expect the trend to continue with the new gen BYD F3 gearing up (it cracked the 10,000 monthly units mark this month), and low-cost models like the Venucia R50/D50 (up a massive 67 ranks to #46) getting more and more successful…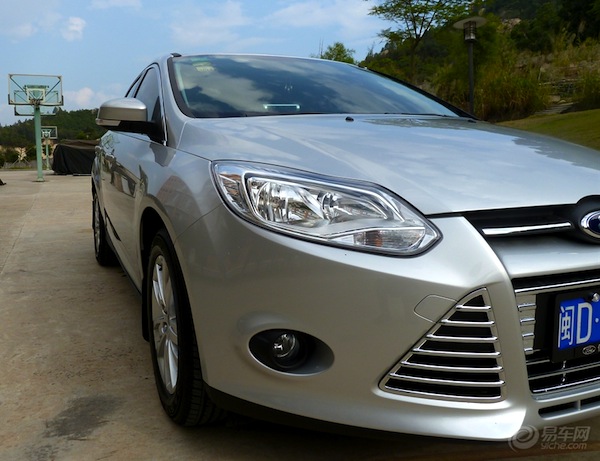 38,362 Ford Focus found a buyer in China in November
3. Exceptional, outstanding, out-of-this-world, hard to appreciate the performance of the Ford Focus in China at its correct measure: it is the #1 passenger car for the 4th month in a row and the 5th time in the last 6 months, smashing its volume record again at 38,362 sales, which could even be the highest monthly volume ever recorded for a Passenger Car in China.(Note the Focus also managed to take the lead in the UK for only the 4th time in the last 3 years after May 2010, Jan 2011 and Feb 2012). While we're at it, let's notice the VW Lavida also lodging a record month at 31,397 units.
VW Up!
Third big event and it's a brand one, Volkswagen continues to kick arse and just doesn't show any sign of slowing down even in a fragilized European market. The brand monopolises the podium in Norway (Golf-Passat-Tiguan) for potentially the first time ever there, also in Germany (Golf-Passat-Polo) for the 2nd month in a row and the 5th time in 2012 so far, and in Austria (Golf-Polo-Tiguan) for the 5th time in the last 6 months. Helped by the arrival of the 7th generation, the VW Golf reclaims its traditional leadership in Switzerland, Austria and Macedonia this month.
VW Golf 7
The VW new Jetta beats its volume and share record in Mexico at #4 with 3,959 sales and 4.3% while the VW Polo lodges a brilliant 5th spot in France, only the 4th time it ranks within the Top 5 there. Note the Polo is the only foreign model to have ever broken into the French monthly Top 5!
The VW Up! is at a solid #16 in Germany and up to #6 in Greece and continues to own Denmark. In fact, the Bratislava sisters (Up-Citigo-Mii) success in Denmark is one of a kind… The Up! is in pole position there for the 5th time in the last 6 months and delivers its best score so far: 1,640 sales for a huge, world-best 10% market share! It is followed by the Skoda Citigo, equally impressive at a world-best #2 (vs. #11 at home in Czech Republic) with 1,154 units and 7.1% share. To give a bit of perspective, note that with the Toyota Aygo, the Up! and the Citigo are the only models to have sold upwards of 1,000 units in a single month in Denmark over the last 3 years – and the Up! has done it 6 consecutive times…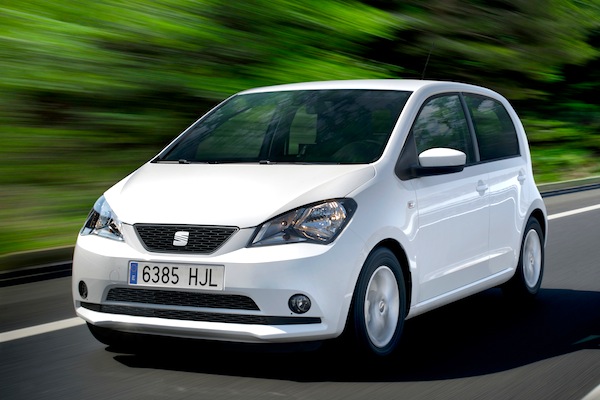 Seat Mii
The third Bratislava sibling, the Seat Mii, is down 6 spots to a still world-leading #17 but is victim of its success, with production currently unable to follow demand, a backlog of 3,600 unfilled orders and a 3 month-waiting list that has prompted consumers to buy one of its other two twins.  All-in-all the Bratislava sisters add up to an amazing 3,057 sales and 18.7% in Denmark this month!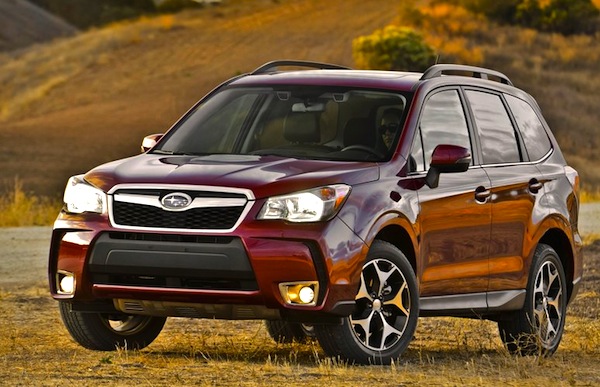 Subaru Forester (US model)
In Japan, while the Toyota Aqua #1 for the 2nd month in a row, the new generation Subaru Forester enables the nameplate to break a 15 year-old ranking record in Japan at #15 with 3,113 units, beating the #19 it reached in April 1997 … It is however not the Forester's strongest volume ever, that record remains 6,214 in March 2000, but perhaps not for too long: 8,000 orders have been received for the model so far in Japan, which is 4 times Subaru's expectations…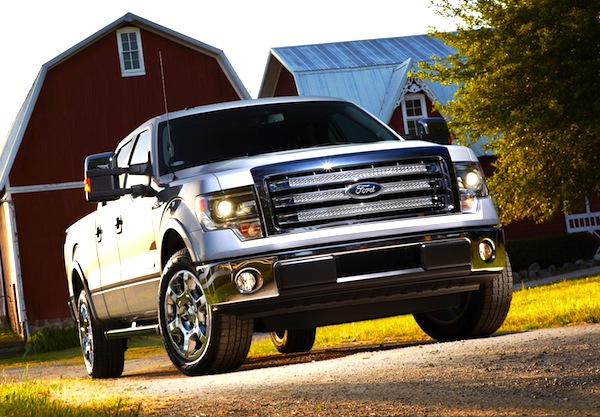 Ford F-Series
In Canada, after only 11 months the Ford F-Series has managed to beat the annual sales record for any vehicle in the country it set back in 2010 at 97,913 units. With 99,331 sales at end November, Ford's best-selling pick-up truck would have by now already passed the 100,000 annual sales mark to become the first ever vehicle to do so in the history of automobile in Canada! A historical milestone indeed, even more remarkable in post-economic crisis times when pick-up trucks are not the obvious choice anymore. For comparison, we have to go back 8 years to 2004 to find the F-Series record year in the USA…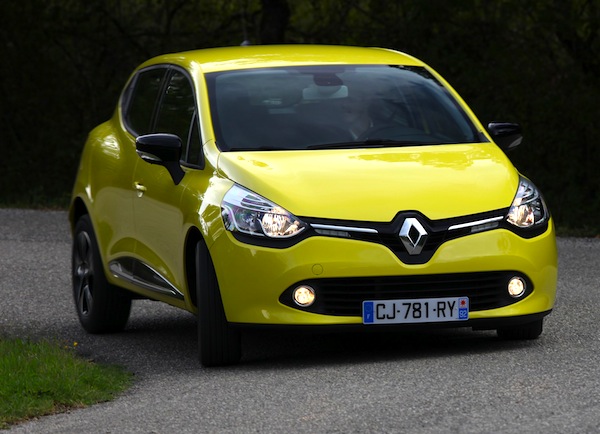 Renault Clio IV
The Renault Clio IV snaps up the pole position in France, passing its archenemy the Peugeot 208 as early as for its first 'true' month of sales with 7,152 units and 4.9%. The 4th generation pushes the Clio nameplate up 19 spots to #2 in Croatia, up 22 to #28 and #1 'true' foreigner in Germany and enables it to hold the pole position for the 9th time so far this year in Slovenia. As a result, the Clio climbs back onto the European podium at #3 with 22,133 sales for the first time since February 2011.
Renault Duster
The Renault Duster is up a further two spots in India to a record #13 at 5,251 units – single-handedly taking Renault from #12 to #7 brand in the country, passing Skoda, Nissan, Honda, Volkswagen and Ford in the process, it is up to #13 in Mexico and #7 in Russia, beating its volume and market share records there to 6,755 sales and 2.8%.
The usual suspect in our monthly roundups, the Nissan Qashqai is not tired of surprising the car world and 3 years into its facelift it ranks #1 in Spain for the 5th time ever and the 4th time in 2012, #1 in Finland for the 5th month running and equals its highest market share ever in Italy at 2.2% and #8, adding up to a shiny 9th spot in Europe as a whole.
Just as the new generation is spreading across Europe, the Dacia/Renault Logan lodges particularly impressive performances in Ukraine where it takes the lead for the first time so far in 2012, in Bulgaria where the soon-to-be-discontinued MCV version takes off to 6% share and by far in pole position and in Iran where it is sold as the Renault Tondar 90, reaching a record 2nd place thanks to 8,369 units produced.
Renault Megane
There is now an exclusive Top 338 all-models ranking for Belgium for the first time ever on BestSellingCarsBlog, and it shows the VW Golf in the lead followed by the Renault Megane and Scenic. Boosted by subsidised pricing for low-emission vehicles, the Renault Megane hits a record 10% share in the Netherlands and is now #1 year-to-date there. The Maruti Alto has returned to high figures in India with 23,550 sales this month, including the new Alto 800 which has apparently been very well received, with the Maruti Ertiga impressive again at #9. In Poland, the Opel Astra stops 44 consecutive month of Skoda Octavia domination and in Australia, the Toyota Camry at #3 is the best-selling locally produced model above the Holden Commodore for the 2nd month in a row and only the third time ever after January 1995 and October 2012…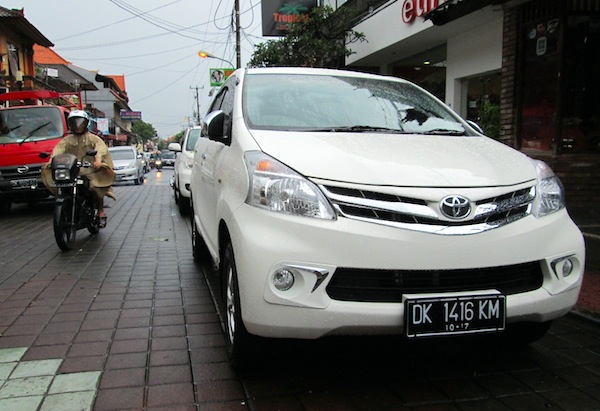 Toyota Avanza in Ubud, Bali Indonesia
The Toyota Avanza delivers an all-time monthly volume record in Indonesia at a huge 17,860 sales, while the  Renault Fluence #1 in Turkey for only the second time ever after January 2012 (October figures), the Chevrolet Colorado shoots up to #11 in Saudi Arabia for its first full month of sales and the new generation Hyundai Santa Fe is starting to make waves: up to #2 in Qatar and #5 in New Zealand. The new gen Toyota Corolla pushes the nameplate to #1 in Australia and New Zealand and the Toyota Prado delivers record showings in Kuwait and Bahrain whereas the Opel Ampera breaks into the Top 30 of any country in the world for the first time this month at #29 in the Netherlands.
Nissan Sentra
Now it's time for an update on how the most recent model launches are behaving worldwide:
The new generation Nissan Sentra up to #5 in Mexico, the nameplate's highest ranking in almost 2 years, and up 39 spots on October to #8 in Puerto Rico…
For its first full month of sales, the Honda N-One is up to #5 Kei car in Japan with no less than 9,674 sales…
The Kia K3 down to #7 in South Korea but up 33 spots to #30 in China with 10,313 sales for its 2nd month in market…
The Volvo V40 stays very solid at #6 in the Netherlands, #7 in Sweden, #14 in Belgium and #10 in Norway…
The Skoda Rapid is up to #14 in Ireland but down 8 spots to #20 in its native Czech Republic…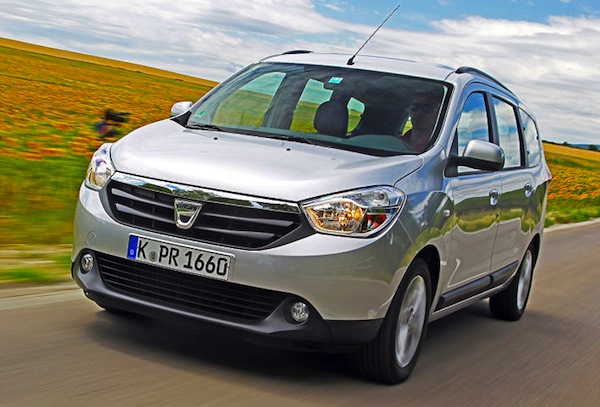 Dacia Lodgy
The Dacia Lodgy has slowed down in France but is up to #17 in Austria and #24 in Romania…
The Ford B-Max, at the same time its production was cut in its Romanian plant, is up to #19 in Czech Republic with 148 units and 1%, #26 in Italy, #32 in Romania, #40 in France, #58 in the Netherlands and #59 in Germany…
The Seat Toledo lands directly at #20 for its first month in market in Ireland but is down a worrying 42 spots to #84 in its native Spain…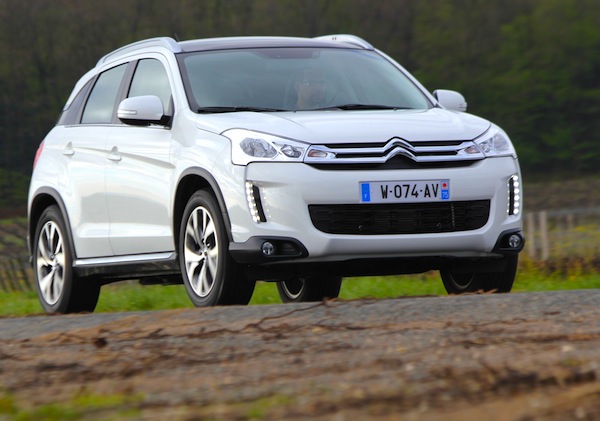 Citroen C4 Aircross
The Citroen C4 Aircross is up to a world-best #30 in Norway…
The Citroen C-Elysee launches directly at #36 in Bulgaria and #85 in Spain where it is produced while its twin the Peugeot 301 arrives at #50 in Slovenia, #51 in Bulgaria, #67 in Greece, #70 in Czech Republic and #159 in Poland…
The Opel Mokka breaks into the Top 50 of two countries around the globe: it is #46 in Slovenia and #47 in Austria…
Fiat Viaggio
The Fiat Viaggio ranks #105 in China, consistent with my latest Chinese Viaggio sales update, GAC official numbers (thanks Jeff!) say 4,075 units sold in November, bringing its year-to-date total to 7,193 (#203)…
Finally the Opel Adam lands at #193 with 101 units sold in Germany…
In the US, Subaru is up a massive 60% and achieves 300,000 annual US sales for the first time in its history, BMW is up 45% to deliver its best-ever month in the US at 31,213 units, Honda up 39% hitting its best November sales ever, Volkswagen up 29% and lodging its best November since 1973, Audi up 24% and already beating its annual sales record after 11 months, Mazda up 18% and achieving its best November since 1994 and Kia sold its 500,000th model in the US so far in 2012, a first for the brand.
The best performer of the month is by far the Honda Civic, up 75% year-on-year to #3 at 30,075 sales, a new November record beating the one set in 1990. It is the first time the Honda Civic ranks on the US podium since August 2009, and potentially the 2nd time it ever leads the Passenger Cars ranking after May 2008 when it ranked #1 overall. The Ford C-Max improves again, up 27 spots to #68 whereas the Dodge Dart seems to have hit a wall already, down 18% and 16 ranks on October to #75.
You can check out the previous World Roundups here:
World October 2012 Roundup: China, Japan and Austria in focus
World September 2012 Roundup: Ford Focus shines in China
World August 2012 Roundup: Subaru XV topples almighty Golf in Switzerland
World July 2012 Roundup: Geely CK writes history in Ukraine
World June 2012 Roundup: Hyundai Santa Fe and Ford Focus shine
World May 2012 Roundup: GM and Toyota Etios make headlines
World April 2012 Roundup: Maruti Swift and Mazda CX-5 impress
World March 2012 Roundup: Toyota Prius breaks a leg
That's all for this month! Hope you enjoyed…
Matt Gasnier, based in Sydney, Australia, runs a blog named Best Selling Cars, dedicated to counting cars all over the world.