Find Reviews by Make:
Secretary of Transportation Ray LaHood wants to get people out of their cars and start riding bikes and walking to work. Unlike LaHood, I've actually done 18 mile commutes on a bike, five days a week, seven months out of the year, and when I worked only 3.5 miles from home on nice days I'd sometimes walk.
Once, while doing intervals on my way to work and with my heart close to terminal rate and breathing pretty hard, contrarian that I am I wondered just how much CO2 a person puts out on a bicycle and how it compares to a car with an ICE. It turns out that it's a non-trivial amount and it's possible that with enough passengers a car-pool or bus filled with commuters has a smaller carbon footprint than the same amount of people riding bicycles to work.
Some said that I need to be a more focused and a more disciplined writer, that I must be more ruthless when excising or editing extra, redundant, superfluous, unnecessary, and/or gratuitous words. So I'm not here to talk about CO2, though I am here to talk about bicycles. Another of those funny thoughts occurred to me while out on the *Litespeed this morning : Are bicycles really more efficient than cars?
Bicycles are one of humans' greatest inventions. The frame geometry of the modern "safety" bicycle (perhaps when compared to the old penny farthing high wheelers – bicycling still injures more children than any other recreational activity) hasn't changed in 130 years. Though there have been innovations in the design of sprockets and chains, the basic drive layout, with a large front chainring driving a chain connected to a smaller sprocket on the rear hub, also hasn't changed in over a century. Tests show that a bicycle can be up to 98.1% efficient in terms of converting energy at the pedals into forward motion.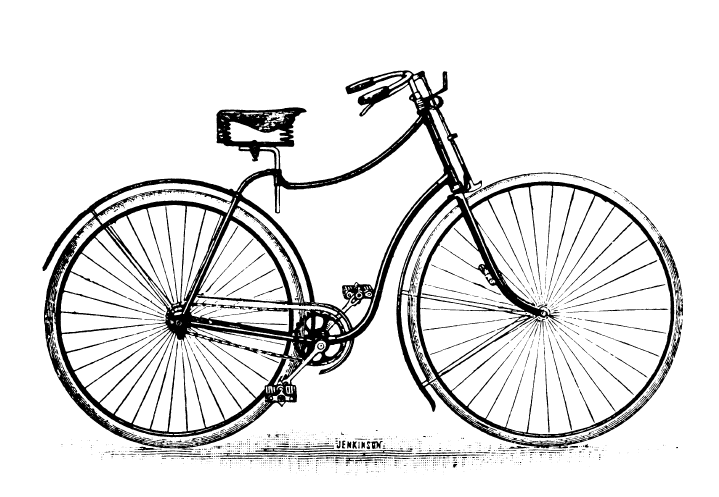 The notion that bicycles are the most efficient form of human transportation has become a watchword among environmentalists and alternative transportation supporters. Cycling is said to be more energy efficient even than walking.
It's true that on a kcal or btu per mile basis, a bike wins hands down over a car. A typical car with one passenger uses 50-80 times more energy to travel the same distance as an average person on a bicycle.
Energy, though, isn't the only measure of efficiency.
What about cost?
A twenty mile round trip in a car that gets 30 MPG costs $2.00 when gasoline is $3.00/gal. According to Bicycling magazine, a 180 lb man going 12 mph burns 37.50 kcal/mile. That rises to 55.16 kcal at 19 mph. Everyone has their own comfortable speed, but let's take 15 mph as a decent commuting speed. At that speed, a 180 pound man uses 42.13 kcal per mile. For a 20 mile commute, that's 842.6 kcals. So how much does it cost to buy about 850 calories to fuel your body?
For the purposes of this comparison, I've decided to use what I call the BMI. No, not Body Mass Index, but rather the Big Mac Index. If there's anything close to standard fare in the world, it's a McDonald's Big Mac sandwich. I see 540 kcals quoted as the caloric content of one standard American Big Mac (in Australia, they're smaller). There are regional variations in price but in general, in the United States a Big Mac costs between $3.29 and $4.10. Big Macs aren't kosher and I don't know which part of the spectrum is most common so I'll just take an average, $3.69.
Eight hundred forty-two point six kilocalories works out to 1.56 Big Macs. At three dollars and sixty-nine cents per, that bike rides going to cost you $5.75.
So in terms of fuel cost, it can be almost three times as expensive to ride a bike as it is to drive a car. There are cheaper bicycle fuels than Big Macs. Before Red Bull, cyclists refueled in the middle of rides with Coke. A twenty ounce Coke is 240 kcals. Those are ninety-nine cents at the corner 7-11. Fueling up with Coca Cola will still cost you three and a half bucks, 75% more than gasoline for the same commute. I suppose you could just eat refined sugar, at the world spot sugar price in September, that would only cost you about six and a half cents, but not many people are going to eat a 1/4 lb. of sugar in one seating.
So bicycles can be much less efficient in terms of fuel cost than cars. Bikes are great. Provided that nobody runs you down, they're great fun to ride terrific exercise and can be, in some cases, a practical alternative to driving, but in terms of fuel cost, they may not save you any money.
*My bike is made of titanium and magnesium, is your car?