Find Reviews by Make:
30 mpg average in a full-size pick-up truck is possible: the proof.
I started this New York to Los Angeles Coast to Coast trip by driving South along the East Coast all the way through to Charleston SC and Savannah GA. It's now time to go north-west, taking Interstate 16 to Macon then the 75 through to Chattanooga, Tennessee via Atlanta, and continuing on the 24 to Nashville. A total of 585 miles (940 km) from Savannah to Nashville, the longest daily stretch so far in this Coast to Coast trip. And this is where Albert – my Ram 1500 EcoDiesel pick-up truck – met his match in the form of a bright yellow Peterbilt truck, and beat his fuel economy record to reach a very symbolic milestone…
Full report below the jump.
Albert rubbing shoulders with a Peterbilt truck
At the last update (Savannah), Albert's average mpg since the start of this road trip was 27.1. That was already on par with this model's advertised highway mpg average (27) even though my trip has included quite a lot of city driving so far, notably in Manhattan for 3 excruciating hours of virtual standstill. The combination of a relatively low speed limit across Georgia highways (varying between 60 and 70 mpg), extensive use of cruise control and virtually 100% highway for 9 hours has lifted my pick-up truck's average mpg to a very symbolic 30 mpg by the time I arrived in my Nashville motel.
US Coast to Coast trip so far. Picture courtesy of Google Maps
This means that since my departure from New York, I traveled 1,664 miles (2,678 km) on just 55.5 gallons of diesel. For those of you who are reading this outside of the United States, it won't mean much unless I translate this fuel consumption into 210 litres or 8.1 litres/100 km. Back to the US, where I have to admit a 30 mpg average for a full-size pick-up truck had every local I shared it with raising their eyebrows. Fuel economy had not been much of a concern for full-size pick-up buyers. Then we saw the Great Recession, spikes in gas prices and a raft of economy-concious powertrains. Chrysler is the first to offer a diesel engine on a base ("1500") full-size pick-up truck, lifting the mpg average to new heights. Advertised at 28 mpg highway in its 4×2 version and 27 as a 4×4 (the one I'm driving), the Ram 1500 has the best fuel economy in its category, and I completely verified it today. Big tick.
The Kia Optima is the Hero of the Day…
Now which vehicles did Albert have the pleasure of crossing on our way through Georgia? It should be noted first that I did the entire trip on the highway and only stopped at a couple of exits to rest, refuel and eat, and obviously this impacts the type of vehicles I have spotted and will describe here. Final note is I did not stop in Atlanta (sorry!) simply and sadly for lack of time, and after I left Chattanooga in Tennessee, it was night time which meant I could not recognize most of the cars on the other side of the highway, limiting my findings on Tennessee for now.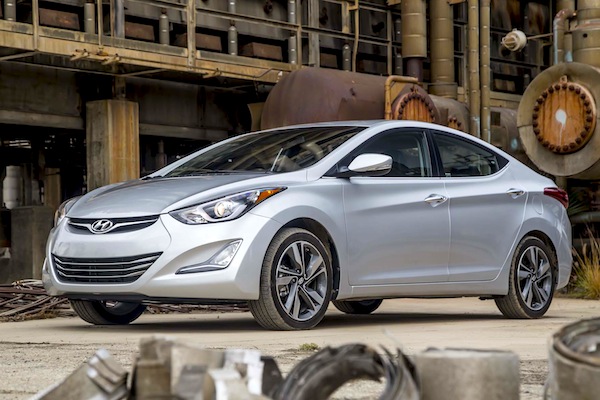 …with the Hyundai Elantra not far behind.
Once again we have a very unique vehicle landscape on Georgian highways. The Car of the Day is… wait for it… the Kia Optima, going from extremely discreet so far despite its #26 year-to-date ranking in the US overall (#15 passenger car) to contender for #1 passenger car – no less! There is a very simple explanation for this sudden change of heart: the Optima is manufactured locally in West Point GA… The Hyundai Santa Fe and Kia Sorento, manufactured in the same plant, are much less frequent than the Optima on Georgia highways but still frankly above the numbers I spotted up until now. The other very impressive model today is the is the Hyundai Elantra, also a contender to the title of #1 passenger car in Georgia based on my observations, and manufactured in neighbouring Alabama.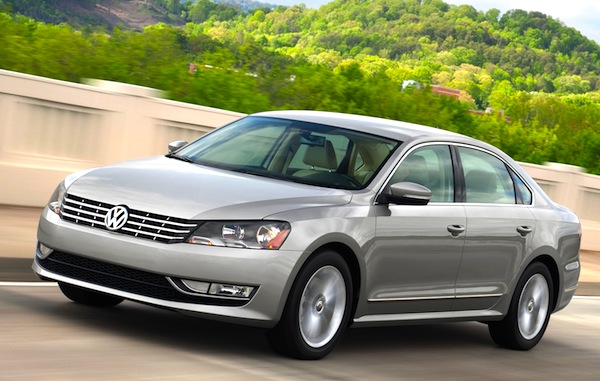 Not that many VW Passats near Chattanooga…
I can already hear some of you wondering out loud whether I saw lots of VW Passats in Chattanooga, Tennessee where they are manufactured. And the answer is no. I paid special attention to this very model the entire day to try and get a feel for its success (or lack therof) as we approached the border with Tennessee and I specifically drove in and around town to try and spot a surge in popularity for the VW sedan. The result: I saw my first Passat of the day 70 miles before Chattanooga (some 300 miles after leaving Savannah), only two in Chattanooga itself and around (if anything I saw more Jettas than usual but this model is manufactured in Mexico) and 3 between Chattanooga and Dalton in Tennessee. In other words, had I not known the Passat was manufactured here, I wouldn't have noticed anything abnormal.
Apart from the Optima/Elantra surge, pick-up trucks continue to rule the roost in this region and their ratio to the overall traffic keeps increasing, rising to almost 50% in Georgia's heartland but receding somewhat as we get North and into Tennessee towards Nashville. Other models spotted in higher than expected numbers across Georgia include the Ford Focus – truly popuar for the first time in this trip, the new generation Toyota Highlander – not seen at these levels since New York, the Ford Taurus, Nissan Versa Note, Buick Enclave, GMC Acadia, Nissan Sentra, Chrysler Town & Country, Dodge Dart, Jeep Cherokee, Ford Mustang and Dodge Charger.
2015 Chevrolet Suburban
All-in-all, mid-size sedans dominate the Georgian landscape as they do nationally, with the Toyota Camry, Honda Accord and Nissan Altima the most popular. A special mention once again to the new generation Chevrolet Tahoe/Suburban – GMC Yukon/Yukon XL combo, spotted on the highway as if it was a Top 10 model, and to the defunct 2007 Saturn Sky: none in the 1500 miles coming up to the first one spotted and a total of 3 today!
2007 Saturn Sky
I will close this update by thanking the Peterbilt of Atlanta dealership in Jackson GA for letting me roam their massive parking lots, loiter for a good hour waiting for the sun to come back and take hundreds of pictures of Albert in various settings along with their trucks. To the salesman who drove to me in his golf buggy to apologetically let me know that the dealership had to close now: it's ok. I got it all in the can! Next update will be on Nashville, Tennessee.