Find Reviews by Make:
Part One, Acura to Chevrolet, is here
Yesterday, we started are look through concept and show cars from major car companies that may have slipped your attention by being rather obscure. I delight in the obscure and the unusual, figuring that not everyone needs more pics of '69 Camaros or '58 Isettas. We continue with barely known Chrysler, Dodge and Ford concepts.
The 1954 Chrysler La Comtesse was was a companion car to the Le Comte. Spare me the lecture about how the La Comtesse and Dodge La Femme were sexist (see L.P. Hartley on the past). Because of three or more years of lead time in the production of a new car, it takes years for a chief stylist to make a personal imprint on a company's styling. Virgil Exner's "idea cars" for Chrysler, usually made by Ghia, gave consumers an idea of what future Chrysler products might look like but in the meantime, they still had to sell current production cars and by 1954, the full size Chryslers were six years old. They slapped two tone paint on the old stallion and mare and gave them clear Plexiglas roofs and put them on the show circuit to help move some metal. I'd say that it took well into the 1960s for car designers and customizers to realize that clear plastic roofs make for an uncomfortabley hot car on sunny days.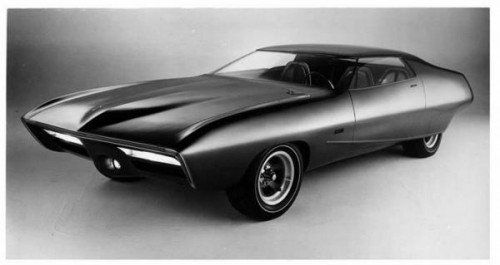 Before Chrysler made a Cordoba to suit Ricardo Montalban, the Cordoba de Oro concept in 1970 was a radical statement of the "fuselage" look then popular with cars wearing the Pentastar (and its name corrected the Dodge Deora's bad Spanish). More than a decade after Virgil Exner's Norseman concept went down with the Andrea Doria, Chrysler stylists working under Exner's successor Elwood Engel reprised Exner's cantilevered roof with minimal A pillars.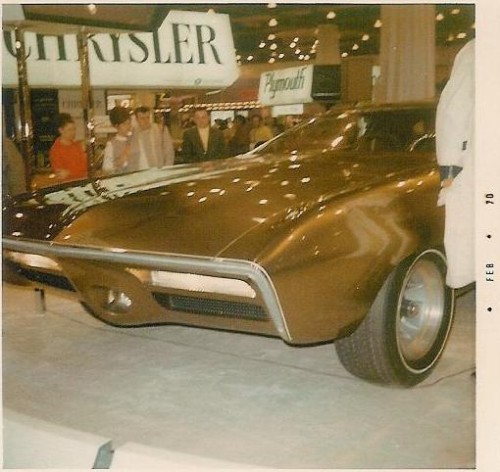 All the publicity photos of the  the Cordoba de Oro seem to have been in black and white, but this snapshot taken at the 1970 Chicago auto show explains the car's surname. The interior featured novel adjustable pedestal bucket seats developed by Allied Chemical that had an integrated lap and shoulder belt system. The seats were trimmed in gold leather to match the car's exterior. It's not clear if it was of the soft Corinthian type. Another safety system tested on the Cordoba de Oro was an early airbag prototype. They even worked on a demonstration-purposes-only airbag that deployed much slower than normally, but for some reason that was never shown to the public.  The Cordoba de Oro did have a common concept car gizmo that's become a common feature on today's cars, a camera and tv monitor that replaced the Cordoba's conventional rear view mirror.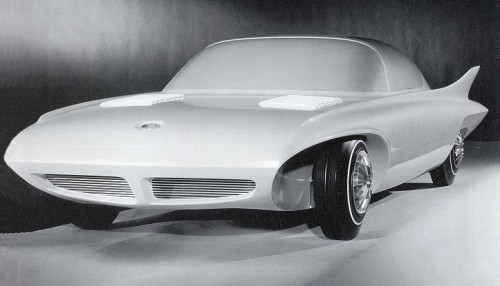 The 1959 DeSoto Cella I is one of my favorite lesser known concept cars. Actually, it was more of a concept than a car since it never got past a 3/8ths scale model, but the model was on public display at the 1959 Chicago Auto Show and other shows that year. The personal project of DeSoto's chief engineer, A.E. Kimberly, the Cella was supposed to be driven by an electric motor at each wheel, powered by a hydrogen/oxygen fuel cell, hence the name Cella. Yes, a fuel cell powered electric car conceived by a Detroit car company in 1959. Detroit was an innovative place in the late 1950s and early 1960s.
In addition to its advanced propulsion system, the Cella concept was to have had a padded dashboard, seat belts and collapsible steering column for safety, along with a built in refrigerator, television and stereo sound system. As you buckle up and access the songs on your cellphone through your hybrid car's infotainment system while you reach for can of chilled soda pop from the console, ponder for a second that there is a reason why car companies build concept cars.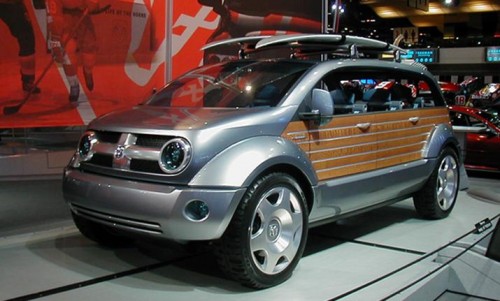 The 2003 Dodge Kahuna concept. A number of obscure show cars have had Hawaiian names or surfing themes. Mattel even added surfboards to the Alexander Brothers' Dodge Deora show car (definitely not an obscure car) when they introduced the Hot Wheels line.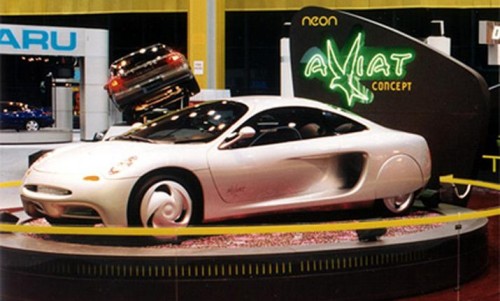 Chrysler never gave the spunky Neon the love that the little car deserved. It was a credible competitor in a competitive segment but Chrysler let it die on the vine. I bet you never heard of the 1994 Neon Aviat concept, with its own neon parrot.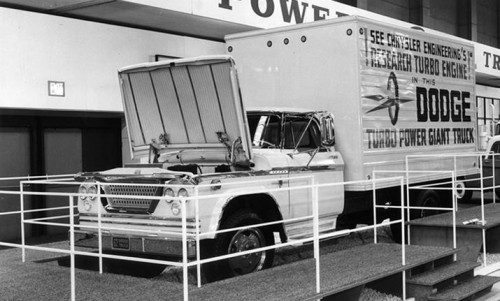 Most car enthusiasts know about the Chrysler Turbine Car but how many of you know about the 1962 Turbo Power Giant Truck? That medium duty Dodge truck with the very Japanese domestic market sounding name was equipped with one of Chrysler's famous turbines. Ford also experimented with turbine powered trucks.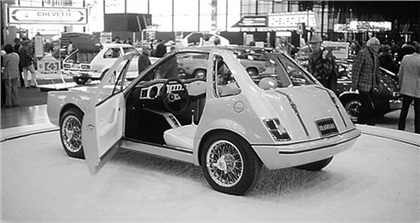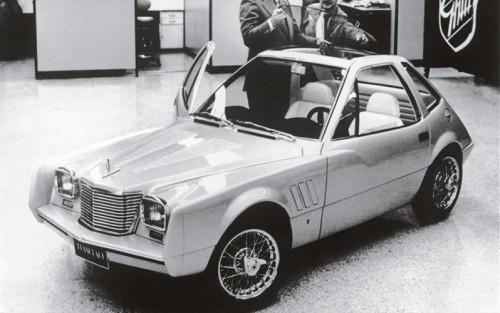 Some of these vehicles have names that make you scratch your head and wonder, "just what were they thinking?" (see Machete, Lincoln below). In 1975 Ford owned Ghia and the Italian styling and coachbuilding company came up with the concept of a blinged out and luxurious little city car, replete with "classic" grille and faux leather straps over the bustle back trunk. Not only is the styling odd, the name "Flashback" is both a reference to drug use and LSD as well as a curious word choice considering that in 1975 Ford was right in the middle of an exploding controversy about supposedly exploding Pintos.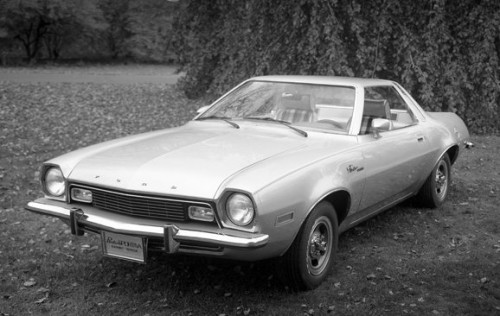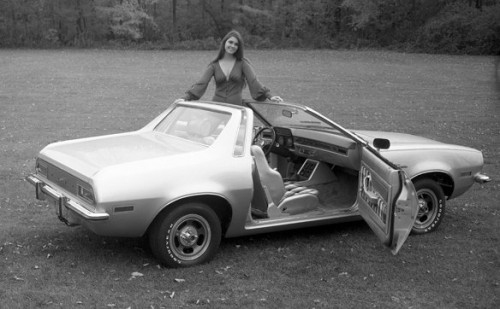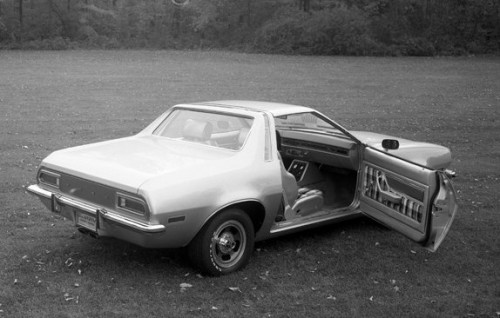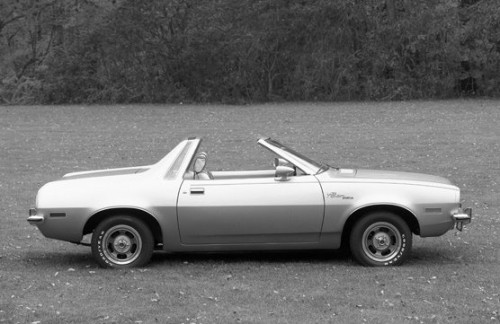 Speaking of Pintos, here are the rest of the publicity shots of the Pinto Sportiva. A jpeg of the press release can be seen here.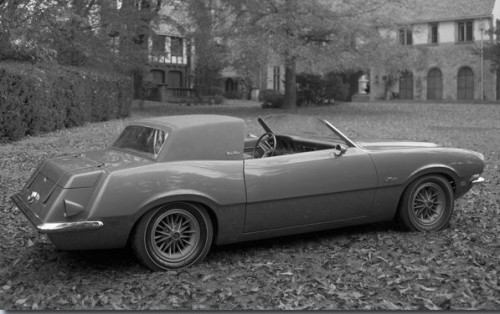 And speaking of leather straps on a faux classic bustle back rear end, here's the 1971 Ford Maverick Estate Coupe concept.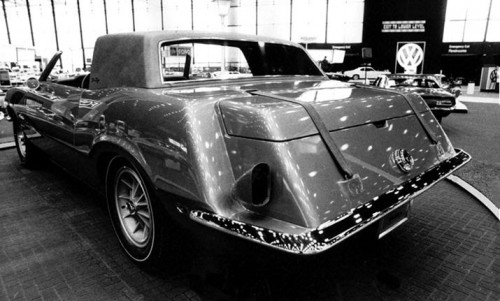 It's so incongruous that I tracked down another photo just so you could avert your eyes twice.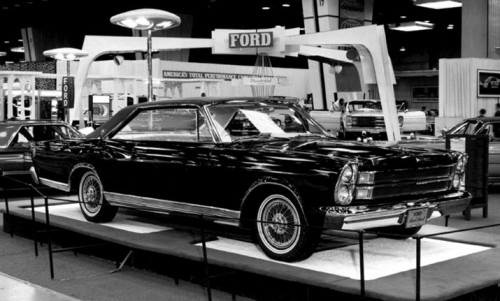 To cleanse  your visual palette, here's a better looking Ford show car, the 1966 Black Pearl, based on an LTD. The Chicago Auto Show site says that it's a factory custom, but it might have been done by the Alexander Brothers or another of the era's leading customizers, who prepared a lot of Ford's show cars in the mid 1960s. The name comes from the black metallic paint and the pearl white satin, leather, and mouton carpeted interior.  It looks almost stock because of how subtle the custom touches are: shaved door handles and keyholes, and deeply recessed lights in the back. I think Jack Sparrow would like it.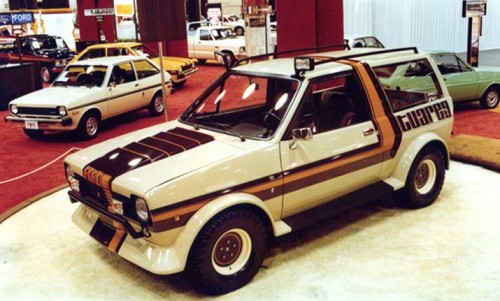 What's that you say? A Tuareg is a VW, not a Ford? Well Ford used that name for this Euro Fiesta based rallyish concept in 1979.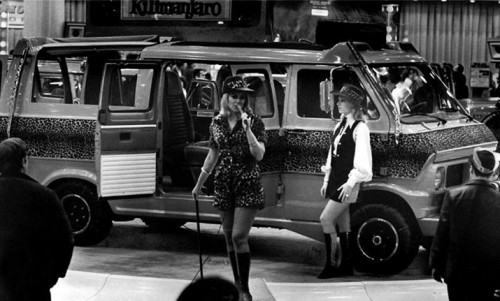 B'wana wanna a 1970 Econoline Kilimanjaro for your next safari? Leopard print was still in style 20 years after Cadillac's Debutante.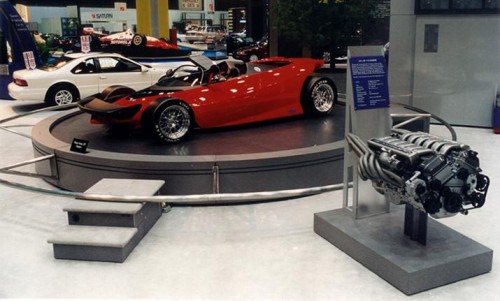 The 1996 Ford Indigo concept may be obscure but as far as I can tell, it was the first public use of the V12 engine that is now the workhorse of the Aston Martin brand. The "Aston Martin 6.0 V12" is basically two 'Siamesed' Ford Duratec 3.0 L V6 engines with a common block cast by Cosworth, which developed the engine. At the time the engine was developed, Ford owned Aston Martin, though I believe it hadn't yet owned Cosworth, though that's kind of moot in light of the close relationship of Cosworth to Ford. It was Colin Chapman who convinced FoMoCo to invest $100,000 into what became one of the most successful racing engines ever, the Cosworth Ford DFV.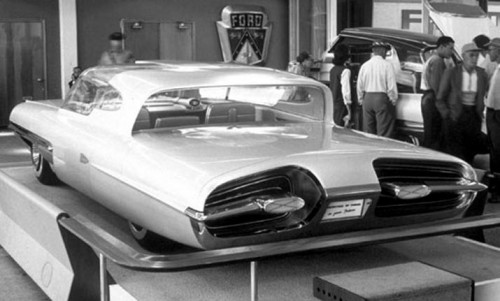 Ferrari just introduced La Ferrari, but Ford predated them with the 1958 La Galaxie (and Cadillac and Chrysler before Ford with the La Espada, La Comtesse and La Femme), one of the less extreme Ford space age show cars of the 1950s.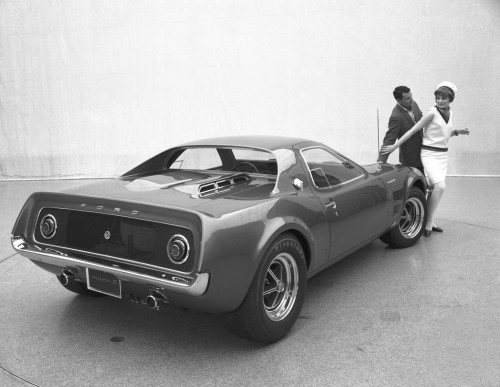 You've heard of the Ford Mach 1. What about the Ford Mach 2? Looking a little like the love child of a Mustang and a GT40, it was built by Kar Kraft, which built many of Ford's racing cars and other special projects. It was midengine two seater with a 289 V8 and a ZF transaxle and apparently at least one functioning example was made, since Motor Trend published test results. It's not known if the Mach 2 still exists. It may still be in a warehouse in Dearborn, but Ford isn't telling.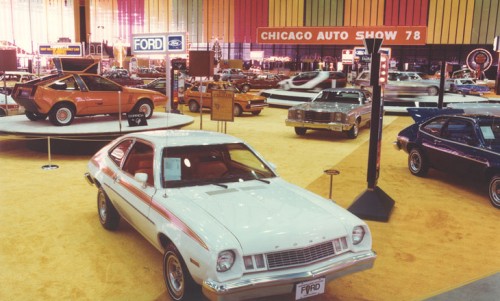 Starting in 1976, Ford had Ghia, which it owned at the time, do a series of concepts based on the Fiesta, starting with the Corrida. In case you've forgotten what the Corrida looks like, it's the angular coupe with the turned up butt behind the white Pinto. Behind the Granada based Thunderbird, on the turntable beneath the Chicago Auto Show 78 sign,  is the white  Megastar II concept, also by Ghia, but based on the Ford Taunus.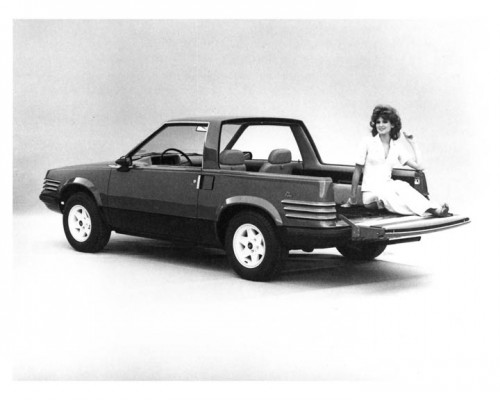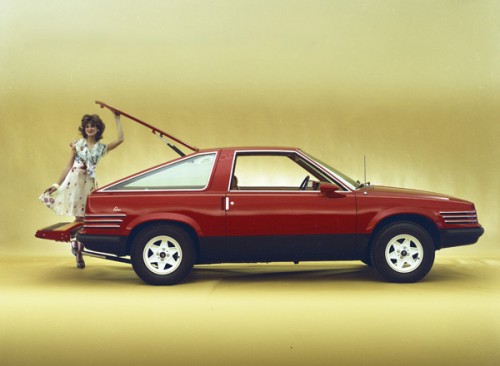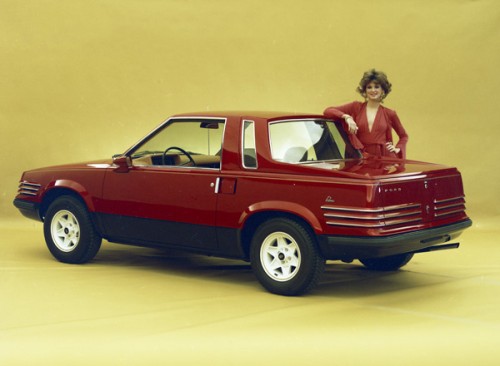 Another of the Fiesta-based concepts, the Ghia Prima predated the Nissan Pulsar with its changable roof by a decade or so. The Prima had station wagon, hatchback coupe and notchback roofs that could be swapped out or left off for a pickup truck. I was able to find publicity shots of the hatchback,  notchback and pickup, but no luck for you longroof fans.
Continued in part 3 tomorrow, Honda to Mercury.
Ronnie Schreiber edits Cars In Depth, a realistic perspective on cars & car culture and the original 3D car site. If you found this post worthwhile, you can dig deeper at Cars In Depth. If the 3D thing freaks you out, don't worry, all the photo and video players in use at the site have mono options. Thanks – RJS