Find Reviews by Make:
Is it a cliche to say that as a writer I try to avoid cliches? Anyway, I do try to avoid the word legendary (see Dash Parr on being special), but some concept and show cars are, well, legendary. Not in the sense, of course, that people tell grand tales about them but because they are remembered, ending up in books and blog posts. Some concept and show cars are, if not the stuff of legends, certainly the stuff of history. Other cars, not so much. For every memorable Cadillac Evoq, Sixteen and Converj, there's been at least one La Espada or Aurora, cars that never really caught the public or auto enthusiasts' imagination even if they may have influenced production cars. A concept car can cost an easy million dollars to build, but once that year's auto show season is over, it's often forgotten.
For a long time, after they came off the show circuit many show cars were destroyed or otherwise passed out of company hands. They were of no further use to the car companies so they were discarded. Few things become as quickly dated or as passe as last year's concept cars. After collectors like Joe Bortz and Steve Juliano started finding and restoring those cars, though, car companies have tended to regard show cars as worth saving, if only because of their pecuniary and publicity value, though I think some folks inside the companies do have a clue as to their historic and cultural value. Today I doubt many show vehicles are deliberately destroyed and when they do let concept and show cars slip the bonds of their corporation, car companies try to get maximum value out of the transaction. As part of their centennial celebration a decade ago, in 2002 Ford had Christie's auction off 50 concept cars from FoMoCo's corporate collection, with the proceeds going to charity. During GM's financial crisis and bankruptcy, in 2009 the company culled out 250  prototypes, SEMA show cars, and concepts from their Heritage collection and sold them at the Barrett-Jackson auction in Scottsdale. Since then, car companies have auctioned off a number of other prototypes for publicity and charitable purposes.
While researching Detroit's legendary (if the shoe fits) Alexander brothers, who built a series of award winning custom cars and also made show cars for Ford in the 1960s, I came across a photo of the 1973 Pinto Sportiva Concept (not an Alexander brothers' car, though I suppose it's possible that Larry Alexander may have worked on it as by then he was working for Ford as a master metal modeler in Ford's prototype shop). It's a notchback take on the Pinto that presages the Mustang II which was itself based on the Pinto platform, and to make it at least somewhat interesting, Ford gave it a targa roof.
Did you know about the 1973 Ford Pinto Sportiva Concept? Neither did I. How about the 1988 Lincoln Machete? Putting aside the concept car itself for a second, how on Earth did someone at Lincoln think that "Machete" resonated with the Lincoln brand, or with its customers? Those cars got me thinking about obscure concept and show cars so I headed to one of my favorite places to find pics of cool cars from the past, the Chicago Auto Show's website. The Chicago show has hired professional photographers to shoot the show since at least the early 1950s and they've graciously compiled a year by year archive on the show's website that goes back to the turn of the 20th century. In recent years Robert Shiverts (Oscar & Associates) has been the show's official photographer. The pics that Shiverts and the other official show photographers have shot over the years are a great historical record of American car culture.
I've gone through their dropdown menu of concept cars and picked a few whose names I didn't really recognize (and a few that I think deserve more attention). Some of them did influence production cars even if they didn't achieve fame as show cars, others are doubly obscure.
Many of the photos are from the Chicago Auto Show site, but I've fleshed out the gallery a bit with some publicity and other archival shots.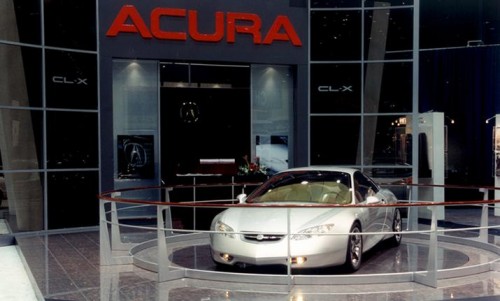 Acura's alphanumeric production car names are hard enough to keep straight. Do you remember the 1995 Acura CL-X concept?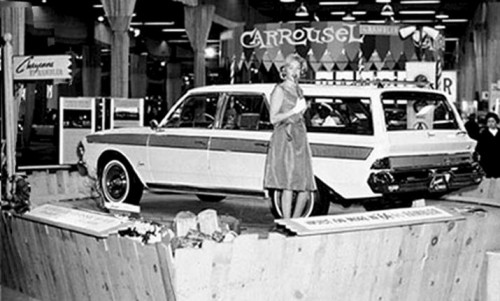 1964 American Motors Rambler Cheyenne Wagon. Western motifs were popular in the '50s and '60s, particularly with station wagons.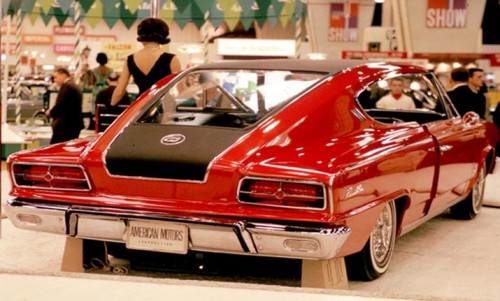 Also in 1964, AMC showed the Tarpon concept, a great looking fastback based on the compact Rambler American with an almost boattail design. Unfortunately, AMC head Roy Abernethy overruled designer Richard Teague and the roofline ended up on the midsize AMC platform as the Marlin. The proportions didn't work quite as well. Dodge's similarly fastback styled but better proportioned Charger outsold the Marlin by a wide margin.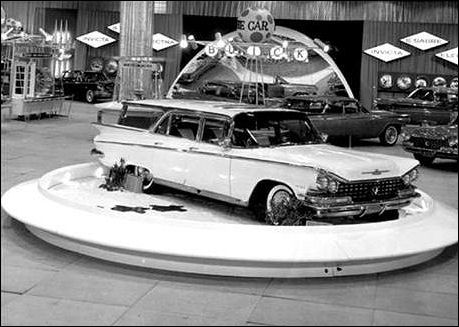 Before there was the Rambler Cheyenne, there was the 1959 Buick Texan, based on the Invicta wagon.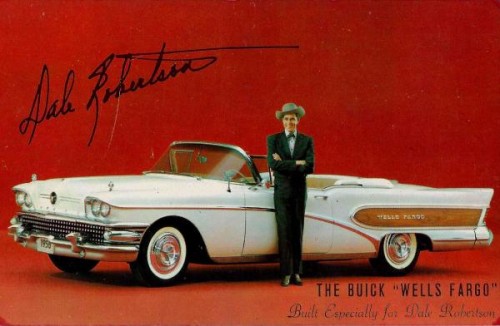 As you can see from the 1958 Buick Wells Fargo, western themes weren't exclusive to station wagons. The Buick Wells Fargo was made especially for actor Dale Robertson, whose western tv show, Wells Fargo, Buick sponsored.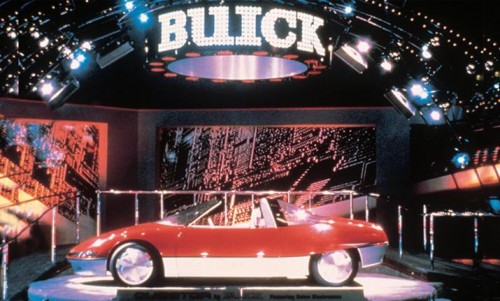 The 1983 Buick Questor had state of the art electronics, with a laser based keyless entry and a computerized navigation system. That was just two years after IBM introduced the Intel 8088 based 5150 personal computer and the same year two guys named Steve introduced the Apple IIe. Some of the Questor's electronic features ended up on the production Buick Reatta.
Not to be confused with Brooks Stevens' masterful Studebaker Sceptre concept, the 1992 Buick Sceptre gave a preview of Buick's soft curvy design language of the 1990s. It also had one of those newfangled cellular telephones.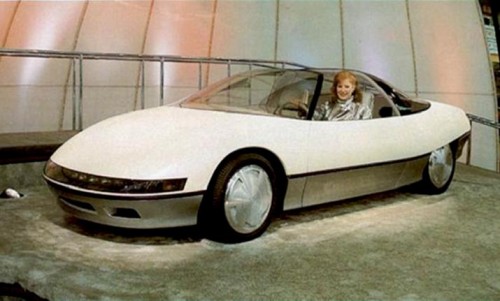 They wouldn't go financially bankrupt until 2009 but General Motors' creative bankruptcy was evident by 1995. It's one thing to recycle a concept name, or another to keep a popular car on the show circuit for a couple of years, but reusing the same actual car a dozen years later with virtually no restyling shows that even the famed staff of GM Design didn't have much left in the tank by the 1990s. In 1995 Buick revived not just the Questor name (companies recycle concept names all the time), it brought back the same car, only with new paint and upgraded electronic gizmos. It's a little confusing because they recycled the car but by I believe that by 1995 the Questor had 14 micro-computers, automatic level, attitude and spoiler control, a "systems sentinel" to monitor the status of vehicle systems, heads-up display, computer based map and navigation system, automatically aimed headlamps, theft-deterrent system, road traction monitoring and control system, TV rear-view mirror (GM first put a rear facing tv camera on the Centurion Motorama car in the 1950s), and a touch-command system for entertainment, comfort and convenience functions. As a concept car in general, the Questor accurately predicted many of the features on today's cars. As a concept car to promote the Buick brand, though, it didn't do much.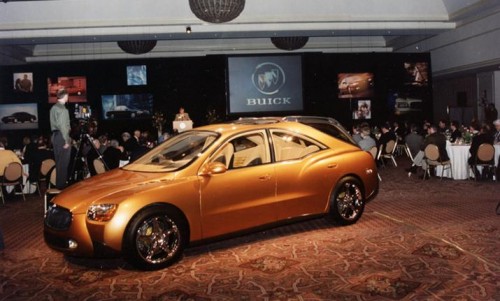 1998 Buick Signia station wagon. It's made some ugliest cars of all time lists but I don't think it's that terrible. Okay, on second thought, maybe it is.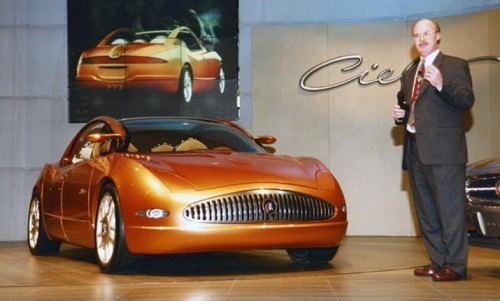 1999 Buick Cielo. Remember it? Had Bill Mitchell been alive to see it, I think he would have said that it looked like a fish.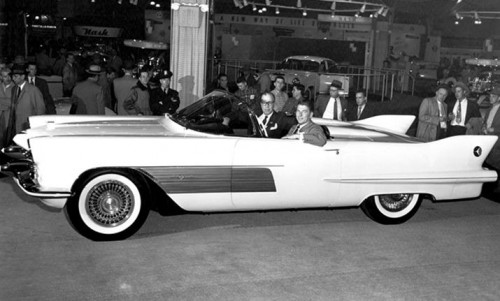 1954 Cadillac La Espada. Actor Ronald Reagan was the Grand Marshall for that year's Chicago Auto Show. Reagan later rode in Lincolns.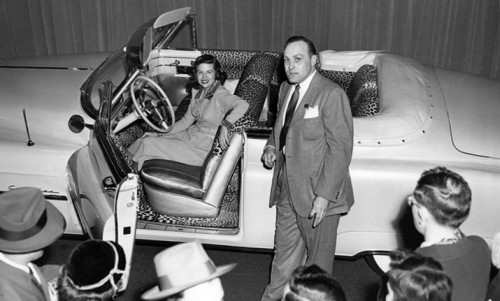 1950 Cadillac Debutante, with all unpainted interior metal plated in gold. In today's politically correct world, would Cadillac use even fake exotic fur, let alone the Debutante's real leopard skin?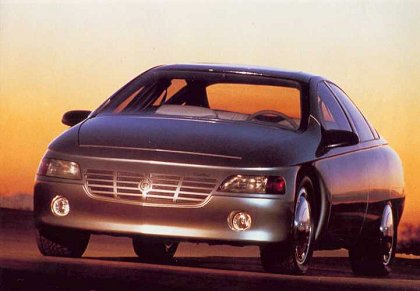 Cadillac used the Aurora name in 1990. The name would later appear at the top of Oldsmobile's lineup.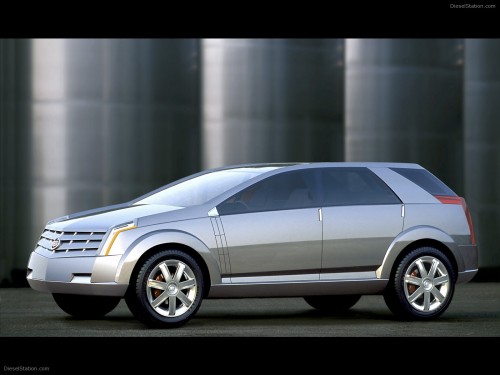 2002 Vizon Concept, a preview of the Cadillac SRX. The Vizon was an early version of Caddy's Art & Science design theme.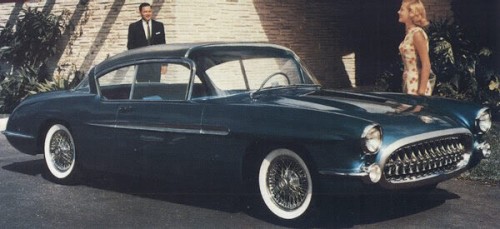 Lately there have been rumors that Chevrolet might expand the Corvette lineup to include a four seater. Expanding the Corvette line is not a new idea. At the 1954 Motorama, Chevy showed hardtop, fastback and station wagon versions of the Corvette, introduced only a year before. For the Motorama in 1957, Chevy debuted the Corvette Impala concept which seated five. Most Motorama cars look a little bizarre to my tastes, but the Corvette Impala was damn near perfect. It's fate is unknown, probably scrapped.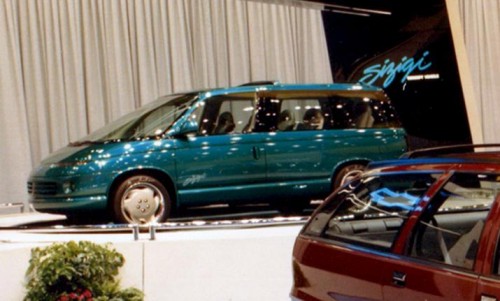 Did Chevrolet really use the obscure, difficult to pronounce and deliberately misspelled Sigizi in 1992 to introduce the dustbuster minivans? Just what two things are connected sygyzistically in this lozenge shaped vehicle?
Continued tomorrow in part 2, Chrysler to Ford.
Ronnie Schreiber edits Cars In Depth, a realistic perspective on cars & car culture and the original 3D car site. If you found this post worthwhile, you can dig deeper at Cars In Depth. If the 3D thing freaks you out, don't worry, all the photo and video players in use at the site have mono options. Thanks – RJS