Categories:
Plenty of Mazda B-Series pickups were sold in the United States, mostly badged as Ford Couriers, but starting in 1983 (when the Ranger appeared) your only choice for obtaining one of these cheap-and-simple little trucks was your Mazda dealer. I spotted this somewhat rusty '84 in a Denver wrecking yard on Saturday, and it looked like it still had some good miles left in it. (Read More…)
Please welcome back Alex Dykes as our Road Test editor. Alex will be contributing reviews and video reviews at our re-launched YouTube channel. Click here to subscribe.
Everyone has been talking about the Dodge Caravan being sent out to pasture soon, but there is a third badge-engineered Chrysler minivan heading into the sunset as well: the 2015 RAM C/V. Behold the replacement: the 2015 RAM ProMaster City. With industry boffins calculating that the class 1 cargo-hauler segment will explode by over 300% in the coming few years, Chrysler is getting in on the commercial action with another Euro model. While the larger ProMaster van is based on the Fiat Ducato, the smaller ProMaster City is an Americanization of the Fiat Doblo. Does the recently formed Fiat Chrysler conglomerate have with it takes to compete with the all-new and all-sexy Transit Connect?
Most design students don't consider Peak Oil in their studies, but The Reckoning was on my reading list back then. While Peak Oil is tangentially connected to car design, we clearly reached Peak Emblem.
It cannot get any worse than what's being introduced in Chicago this week.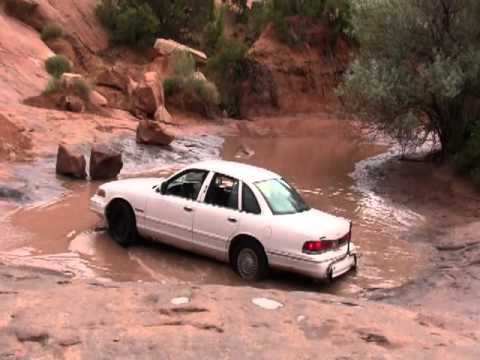 Max writes:
Sajeev,
After following your and TTAC's collective wisdom regarding Panthers, I have enjoyed four and a half years of somewhat trouble-free $1000 police-auction 2001 Crown Victoria ownership. The Crown Vic is a wonderful first car and I love it dearly, despite – or maybe especially – because it taught me a lot about the finer points of its drive train, front end etc. as I eventually ended up parking-lot and shade-tree repairing or replacing just about every major component other than the exhaust and transmission. However, it might now be time to look into a successor for my trusty ride. (Read More…)
With so many IHC Scouts here in Colorado, many of them wear out, rust out, get crashed, or get replaced by trucks with modern conveniences such as sub-100dB interior noise levels and air conditioning. In this series, we've seen this '70, this '71, this '72, this '73, and this '74, and now today's well-used '74. I saw this truck when I went to a Denver yard to celebrate Half Off Everything Day on the first day of the new year. (Read More…)
This was my first vacation in, like, ever. And it was supposed to be a break from cars. No driving, wrenching, writing, photographing!  Stop looking at that Ford Versailles, don't take a photo of that Renault, because car design is no vacation in such a beautiful place…right?
And then "my" Ford Ranger found me in Leblon. Oh, for the love of why did I walk down this street I can't believe that stupid truck followed me from…
The FJ60 Land Cruiser is still a common sight on the streets of Denver, where I live. These things are not anywhere near as comfortable or fuel-efficient as modern SUVs, but they are just about impossible to kill… and that counts for a lot with your FJ-driving demographic around these parts. Being so prized, however, means that you don't see many of these trucks in high-turnover self-service wrecking yards, and when you do see one it tends to get picked clean in a hurry. I went to a local yard on a typically freezing-ass Half Price Day sale last week and spotted this remarkably un-stripped '82. (Read More…)
Stefan writes:
Sajeev, I recently had a conversation with my cousin in Wisconsin. He claimed that cars assembled in North America are more rust prone than cars assembled in Japan or other oriental countries. Apparently his observation was based on several cars in our extended family: An elderly Dodge Durango and a not-so-elderly Honda Odyssey with the traditional clapped-out transmission.

I have never seen any statistics to support these ideas and really don't recall reading suchlike statements in the TTAC in the past. That older American cars rust more than newer Japanese, and vice versa, seems natural and I recall seeing many old Japanese cars with severe corrosion damage, but what is the truth in this matter? Over to you and the B & B!

Stefan ('97 Fat Panther without a speck of rust)
Ah, the Subaru BRAT. Just as you can't find anyone who hates The Ramones, you can't find anyone who wants to beat on the Subaru BRAT with a baseball bat. As perhaps the best-loved car that shows up in self-service wrecking yards with any regularity, the BRAT always inspires me to whip out my camera when I see a junked example. So far this series, we've admired this '79, this '79, this '84, this '82, and this Sawzall-ized '86 crypto-BRAT. (Read More…)