Categories:
Sajeev delivered his Vellum Venom on this one earlier. Now, it's time for the rest of the 2016 Ram Laramie Limited's story.
Most design students don't consider Peak Oil in their studies, but The Reckoning was on my reading list back then. While Peak Oil is tangentially connected to car design, we clearly reached Peak Emblem.
It cannot get any worse than what's being introduced in Chicago this week.
The B&B's only bet for buying a Jeep Wrangler pickup at the moment is to buy a Wrangler, then send it to a third-party for conversion. CEO Mike Manley says he'd love to have such a beast in his brand's portfolio, as well, but there's a hitch.
Ram isn't satisfied with wanting Baja Valley, as the brand sets its sights on Green Valley with the Ram 1500 EcoDiesel HFE leading the charge.
Ram unveiled the 10th trim addition to its truck lineup at the 2015 Detroit Auto Show, the 1500-based Rebel off-roader, signalling the brand's intent to tackle Baja Valley in so doing [Live photos now available – CA].
Right now, one can pick up a new Ram ProMaster City for catering tacos and installing cable down Flower Shop Lane. If that's not enough, however, Ram might soon have a few more tricks up its sleeve.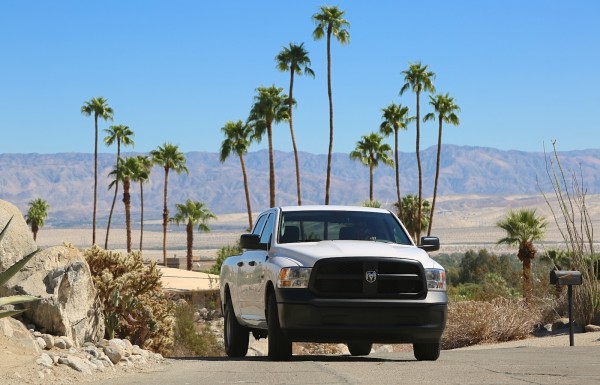 Albert in West Cielo Drive, Palm Springs CA
* You can see all the USA Coast to Coast Reports here! *
After surviving Death Valley we now arrive at our last stop before reaching the Pacific Ocean in Los Angeles: Palm Springs California, the mid-century architecture mecca of the world. The traditional Photo Report, car landscape study, Palm Springs trivia and a guide to the unmissable architectural attractions in town are below.
Albert's first incursion below sea level at Badwater, Death Valley CA
* You can see all the USA Coast to Coast Reports here! *
We now leave Las Vegas to enter the final state of this Coast to Coast trip: California. Crossing the state line, we enter Death Valley National Park and this is the perfect location for an extended photo session with Albert. I give you the Photo Report, California sales data, Death Valley trivia and a review of how Albert coped with Death Valley heat below.
With its unprecedented shift to an aluminum body for the next Ford F-150, the Blue Oval appeared to be pivoting towards a serious improvement in fuel economy. But with the release of the official EPA figures, the newest truck appears to offer only modest improvements.
For some, the Chevrolet Colorado's "technology and stuff" is just what they need in a truck. For others, however, the mid-size pickup's footprint is still a tad too big.
If you call Mexico your home, Ram has just what you need.