Categories:
If you live in Brazil and are pining away for a Jaguar or Land Rover, Tata Motors will open a factory for the luxury marques in time for the 2016 Summer Olympics.
There was a time when Jaguar designed and built some of the most advanced gasoline engines made and Land Rover built it's own diesel powerplants that had a reputation for durablility. However, Jaguar currently buys most of its engines from Ford, an artifact of when the Dearborn automaker owned Jaguar. Jaguar hasn't built an engine of its own design since 1997. Land Rover's last in-house powerplant was the Td5 diesel in 1998 and the company has used a variety of engine vendors including Ford, BMW and Perkins. Next year, Jaguar Land Rover's new $750 million dollar engine plant in Wolverhampton, England will start building a JLR designed  four cylinder diesel and about a year and a half later than that the factory will start producing a turbo four cylinder petrol engine. The engine plant will have a capacity of 300,000 engines per year.
"When we manufacture our own engines ourselves, it gives us an additional degree of freedom," said Wolfgang Ziebart, 63, Jaguar Land Rover's group engineering director, said in August. (Read More…)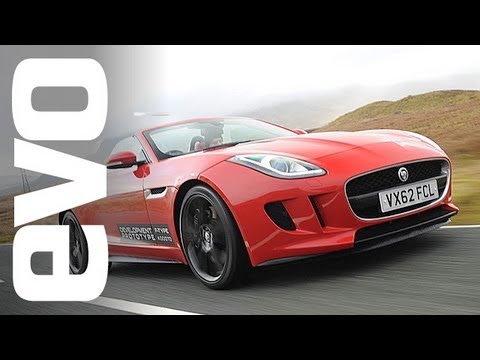 Long time Evo writer Harry Metcalfe has left the magazine to work for Jaguar Land Rover, in a role that is the dream of journalists everywhere: helping to develop halo versions of their current and future model range.
After 67 years in production, and more than two million produced, many of which are still in severe use, late in 2015 the last Land Rover Defender will roll off the assembly line at Jaguar Land Rover's Solihull plant. JLF says that the Defender's demise is because it won't meet new fuel emissions rules in the EU and cannot be adapted to do so. A replacement model is planned, to be launched in 2016. Land Rover has previously teased the DC100 concept as a possible Defender replacement. John Edwards, who is in charge of product at JLR, said that the Defender's replacement will be "instantly recognized" by fans of the current Defender, but that it "won't necessarily be cheap".
It hasn't always been called the Defender.
September was a great month for Subaru, with the brand up 15 percent. Ford, Chrysler, Jaguar Land Rover and BMW also posted solid gains. General Motors,Hyundai/Kia, Toyota, Nissan and Honda saw declines, as the SAAR dipped to 15.3 million units amid decreased consumer and business confidence. Table below the jump.
In advance of its public debut at the upcoming Frankfurt show, Jaguar has dropped a front 3/4 beauty shot and other images of its new compact crossover. Since there's no shortage of wailing and gnashing of teeth from those who see this as a Porsche Cayenne level brand heresy, and since I'm a contrarian non-comformist by nature, I'm going to swim against the stream and say that the CX-17 or whatever they end up calling it, makes sense, or at least it can in today's market. Compact (and smaller) crossovers are the hot thing in the car biz these days. Lexus just released images of a LF-NX compact crossover concept that presumably will also be revealed at the Frankfurt show. GM is looking to shuffle production because GM Korea can't build enough Buick Encores and Opel Mokkas. Land Rover is having record monthly sales, in part due to the success of the Evoque.
Which raises the question, why build a small Jaguar crossover when Jaguar Land Rover already builds the Evoque? (Read More…)
My friends and neighbors have gotten used to the sight of a variety of brand new and nicely equipped cars that periodically show up on my driveway. They know that many (most? all?) of them are beyond my own means to own or lease so a frequent question I'm asked is, "who would buy that car?" Who would buy a 2013 Land Rover LR4? A snarky answer would be nobody, since it's a safe bet that most of the 600 or so new LR4s that get delivered every month in North America are leased, but my guess is that the typical buyers are affluent suburban families with children and maybe a vacation home on an unpaved road. Who else would drive a 7 passenger luxury SUV? (Read More…)
The Ford Mondeo based X-Type failed to get Jaguar a foothold in the segment that is usually defined by the BMW 3 Series and the cars that compete with the 3. Now the Financial Times has reported that Jaguar will be launching an entire line of entry level luxury vehicles for that critical segment and that the new cars, said to be ready for sale about two years from now, will benefit from Jaguar's expertise with lightweight aluminum structures.
Doug writes:
Most car enthusiasts agree the E30 BMW M3 is getting dangerously overpriced. It is, after all, a 25-year old car with a crappy interior; they've all been miled to the moon; and most have been driven hard.
As I look at this week's car, I'm starting to wonder why it doesn't get the same rap. The Land Rover Defender 90 is arguably the poster child for overpriced: a box on wheels sold in North America for a few years in the mid-1990s until Land Rover got tired of conforming to harsh government regulations.
How long has it been since the Range Rover was "the best 4x4xfar"? Since the original 2-door Spen King special went out of production? Since Toyota replaced Land Rover vehicles (including the Defender, Range Rover and the like) as the vehicle of choice for African off-roaders and UN peacekeepers? Since the Range Rover was catapulted from Anglophile obscurity to the must have vehicular fashion accessory of the wannabe Kardashian set?
Car and Driver scribe (and TTAC alum) Justin Berkowitz has penned an amazing feature about the U.S. Government's campaign against grey market Land Rover Defenders.
As Mercedes-Benz, BMW and Audi rush to prepare new entry-level product to attract a younger crowd, Jaguar Land Rover is proudly calling "bollocks" on their efforts to attract younger buyers. Although much of the growth in the "near-luxury" segment is expected to come from vehicles with a transaction price in the $30,000-$40,000 range, JLR's sole offering in that segment is the low-volume LR2. It's the $50,000 Evoque that's driving sales for the brand.  This interview from Automotive News with JLR's North American CEO, Andy Goss, explains why: (Read More…)
Here in Colorado, retired members of the Land Rover family are lined up in large numbers in every self-service wrecking yard. Range Rovers and Discoveries were (and are) extremely popular here, most likely as a form of rebellion against the Subaru Outback-driving hordes whose maintenance expenses (even with all the blown head gaskets and nuked center diffs) come to a boring 0.004% of the total per-vehicle annual cost of Range Rover ownership. I've been ignoring these trucks when I see them in junkyards, but today we're going to look at a typical example, chosen at random. (Read More…)
Although Jaguar Land Rover has made tentative forays into building cars in India (such as building the Jaguar XF from CKD kits), the British luxury group, now owned by Tata, is apparently on the cusp of establishing full production in India.
ZF's 9-speed transmission seems to be gaining popularity with storied off-road name plates that are now marketing unibody vehicles better meant for the urban jungle. The Range Rover Evoque is the next recipient of the ZF 9-speed, which should help squeeze some more efficiency out of the Evoque's boosted four-cylinder engine.