Categories:
We go down memory lane this morning and look at some of the great cars British Leyland didn't build.
Autonomous alien luxury pods and royalty-free hydrogen patents aren't the only things coming onto the stage during the 2015 Consumer Electronics Show in Las Vegas. Today, we'll show you the latest and greatest from BMW, FCA, Audi and Ford, with the help from our brothers and sisters over at AutoGuide.
At yesterday's Google I/O keynote speech, Google laid out its vision for Android Auto (reported here yesterday), which is quite similar to Apple's CarPlay. I've ranted here before about Apple's CarPlay when it was first announced and after more details came out last March. Both have the idea that your phone can hijack the screen in your car. What's newsworthy from Google is that we have an enlarged list of vendors who are playing along. (Wired has the full list. Suffice to say that you'll have plenty of choices if you want a car that goes both ways, if you know what I mean. Most interesting factoid: Tesla isn't playing with either Apple or Google. Hear that? It's the sounds of thousands of alpha-nerd Tesla owners crying out in terror.)
Today, I want to address why you should stop worrying and learn to love having your phone in charge of your car's telematics display.
Former Hyundai executive John Krafcik recently spoke about connectivity and autonomy and of the possibility that electronic gizmos in our cars may make us less connected to the driving experience. That's not the only challenge automakers and drivers face when it comes to electronics in cars. After seeing the missteps that Ford has made with Sync and MyFordTouch, with systems seemingly too complicated or not reliable enough for many drivers, it appears to me that the challenge of chasing a technological treadmill to try and keep cars, which most consumers keep for years, electronically up to date, is a fools errand. Comments to Derek's post on Krafcik's statement indicated that there's definitely a market for less complicated car electronics. People have asked, "why does my car need to duplicate the more up-to-date services that my smartphone provides?" Well, someone at Continental Tire's electronics and instrument division, VDO, asked that same question and they came up with the Flexible Smartphone Docking Station. (Read More…)
When Chrysler touts its well-performing 8.4 inch UConnect touchscreen, somewhere Earl "Madman" Muntz smiles. When drivers use UConnect and other manufacturers' infotainment systems  to play their favorite music Muntz's smile broadens. You see it was Muntz who started the convention of measuring video screens diagonally in the early days of television. He was also an important pioneer when it came to automotive audio systems, inventing and selling the first affordable car stereo systems. Muntz could also be attributed with selling the first modern personal luxury car, or even the first American sports car (though Crosley buffs would demur). Not only did he influence the way people entertained themselves behind the wheel and at home, perhaps more importantly he influenced the way mass consumer goods, including cars, are manufactured and marketed. (Read More…)
According to Brand Finance and other business experts, Ferrari- not Apple- is the world's strongest brand. Apple, however, are no dummies- and they've decided to hitch their "iOS in the Car" wagon to Ferrari's ever-rising star when both companies step out onto the stage at the 84th Geneva International Motor Show and show off Apple's in-car operating system … in the new, production-ready LaFerrari hybrid super car and the new for 2014 Ferrari California T.
(Read More…)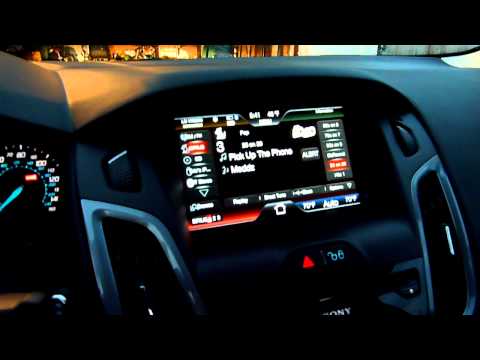 A proposed consumer protection class action lawsuit has been filed in U.S. District court in California over the MyFordTouch (and similar systems in Lincoln and Mercury vehicles) system.
I'm slow to embrace technology. When people say this in modern times, it usually means that they only have 274 iPhone apps and they're still stuck using the iPad 3. But when I say it, I mean that, sitting on my desk as I write this, is an actual bill, being paid with an actual check, in an actual envelope with an actual stamp.
Big news out of Dearborn; the Blue Oval will be adding buttons to its MyFord Touch infotainment system, but they won't be getting rid of the maligned touchscreen system entirely.
Apple just announced a bunch of new stuff today as part of their annual developers conference. Most TTAC readers don't really care that iOS7 is ditching the old skeuomorphic look (fake brushed metal, fake leather, etc.) for a flat design that is damn near identical to what Google's Android and Microsoft's Windows 8 have been doing. However, they'll care about this.