Categories:
A couple of my recent posts on the Lotus Cortina and Ford GT40 covered cars that were part of Henry Ford II's effort to dominate motorsports in the 1960s. Ford Motor Company's racing history in fact predates the company. Founder Henry Ford's "Sweepstakes" car's 1901 victory, with Ford at the wheel, made it possible for him to stay in the automobile business after the failure of the Detroit Automobile Co. Though racing helped create the foundation for the Ford company, Henry Ford II's racing efforts in the 1960 actually represented a return to motorsports decades after his grandfather, embarrassed by a very public racing failure, withdrew FoMoCo's official support for racing. Since that failure took place at the Indianapolis 500 race, and since "the greatest spectacle in racing" is taking place this weekend, it's an appropriate time to take a look at the front wheel drive Miller flathead Fords of 1935. The cars' creation involves three of the 20th century's most fascinating automotive personages and I also happen to think they're some of the most beautiful cars that ever raced. (Read More…)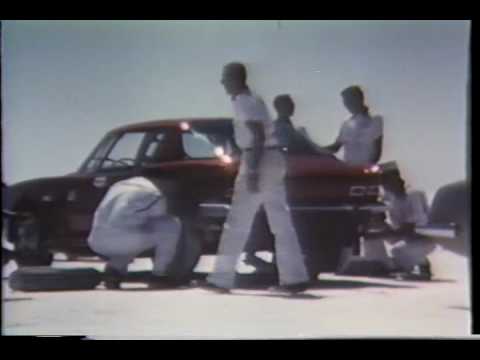 Andy Granatelli died this past Sunday at the age of 90. He was a man worthy of note in the world of cars and the world of business. His sponsorships via the STP oil additive company changed the way automotive product companies used motorsports and vice versa. A larger than life personality, and a genuine character, Granatelli's two Indy 500 wins as an owner were in many ways overshadowed by the near misses at Indy of his revolutionary turbine powered racers. A man of considerable accomplishments in racing and in business, no doubt. It seems to me, though, that his most enduring influence on the automotive world (and the basis of some of the longest enduring automotive speed records) was his popularizing of forced induction, specifically superchargers. (Read More…)
1979 was the first year for the Fox Platform Mustang, and Ford celebrated by grabbing the rights to show off their new machine at the 1979 Indianapolis 500. You could buy a street version of the Indy 500 Mustang pace car, and many did. Many others, a few years later, bought the galloping-horses-and-tape-stripes decal kit for their non-Pace Car Edition Mustangs. I'm pretty sure that this car— which I found in a California self-service yard— belongs in the latter group… but not completely sure. (Read More…)
Having just attended the 97th Indianapolis 500, I'm feeling especially passionate about telling others to get there in person someday. I believe Indy to be one of those special experiences that you have to see in person to appreciate. I've attended IndyCar, NASCAR, American LeMans, NFL, NBA, MLB, NHL, MLS, and many other sporting events, but the Indy 500 stands out as something special.
The 2013 Indy 500 will feature a Corvette C7 as its official pace car. Great for the Vette, and a rather obvious, if predictable choice. But what about the unsung heroes of the Brickyard?