Categories:
The 234,066 extra new truck registrations in 2013 came about despite the loss of 70,077 sales from trucks that had either died off, been discontinued, or were on hiatus in 2013.
Excluding the Chevrolet Avalanche, Chevrolet Colorado, GMC Canyon, Suzuki Equator, Ford Ranger, and Dodge Dakota from the equation results in a 16.4% year-over-year increase in truck sales.
I've never cared for the phrase "as American as apple pie" as apple pie is far from an American invention. Instead, we should say as "American as the pickup truck." In 1925 Ford crafted the "Ford Model T Runabout with Pickup Body" and America's love affair began. The Chevrolet Silverado, and its mechanical twin the GMC Sierra, may not be the best-selling vehicle in America (that award goes to the aging Ford F-150) but the Chevy alone has outsold the Toyota Camry by 55,000 units this year. Toss in the Sierra and there are more GM trucks sold on our shores in a year than all the Volkswagen, Audi and Porsche products put together. The high sales number and high profit margins explain the intense Ford vs Chevy vs RAM rivalry. With a new RAM in 2013 and a light refresh only a year later, GM is firing back with an all-new Silverado and Sierra. Does Chevy's new half-ton have what it takes to be king of the hill?

Usually, in the U.S. pickup truck market, whichever company has the newest truck normally gets a bump in sales. While it's hard to get Chevy guys into Fords and vice versa, about 6% of the market does shift to the most recently updated pickup because of businesses making decisions based on dollars and cents, not brand loyalty.
Remember GM's boast about how their new trucks could tow a segment best 11,5000 pounds? Turns out there's a big ol' asterisk that wasn't expanded upon.
GM announced that prices of their new 1500-series trucks would remain flat, while the new 5.3L V8 is estimated to beat Ford's F-150 Ecoboost in fuel economy and towing capacity.
GM's new large pickups might be locked up at NAIAS, but they were wide open at the launch event I attended last month. The event included three presentations: one of both trucks together, then one each from the two marketing teams explaining how their truck was different…by saying pretty much the same thing. Both Chevrolet and GMC truck buyers have perfectly organized garages where you can eat off the floor. People with messy, disorganized garages must buy someone else's truck.
One of the most conspicuous absences from GM's full-size truck reveal was the lack of any hybrid variants. The highly-touted but slow selling hybrid full-size trucks and SUVs were never intended to be the darlings of America's truck space, but they played an important behind the scenes role for the company.
GM revealed its new full-size pickups today, with a combination of "evolutionary" styling and while offering a more traditional pickup, devoid of the fancy turbocharged V6 engines and air suspensions offered in its rivals.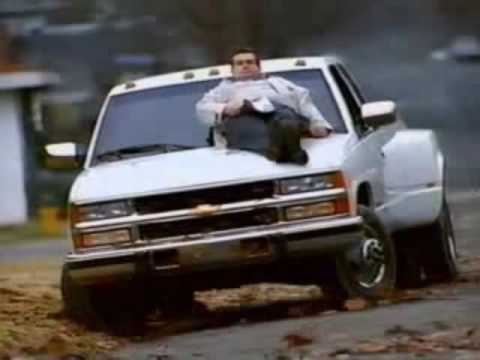 General Motors will give the world their first look at their all-new full-size pickup lineup on Thursday, even as inventories of their current generation trucks continue to pile up.