Categories: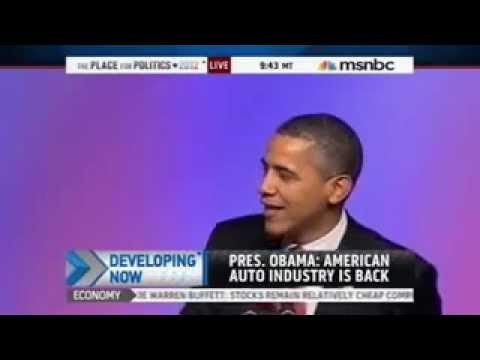 You heard it yourself. When Obama is out of office, he'll buy a Chevrolet Volt and drive it himself. The Secret Service, which famously wouldn't let Obama drive the Volt down the Hamtramck assembly line, generally protects the President for up to 10 years after they leave office – we'd assume that the "no driving" clause applies here. So Obama's Volt may sit for a long time – hopefully it won't brick.
Meanwhile, the DoE's projection of 120,000 Volts produced in 2012 (let alone sold to consumers) still looks a little optimistic. GM just restarted production of the car a few days ago. Their sales target of 45,000 in 2012 has been abandoned after coming 2,300 units short of their 10,000 unit goal in 2011. GM now says that they will adjust "supply to meet demand".
Fisker Automotive has laid off a total of 66 people, including 20 at a former GM plant in Delaware, and another 40 contractors in California. The layoffs come as Fisker attempts to re-negotiate loans from the Department of Energy that were contingent on Fisker meeting sales targets for its Karma sedan, which Fisker failed to do.
NHTSA has closed their investigation into the Chevrolet Volt's fire risk, stating that the agency "does not believe that Chevy Volts or other electric vehicles pose a greater risk of fire than gasoline-powered vehicles."
A fellow auto journalist posted this video of the Chevy Volt dance from the 2009 Los Angeles Auto Show on his facebook page. At that point in time, nobody was paying me to write, and I was not yet a "social media influencer", so I was unable to attend the L.A. show (and I still haven't). In honor of Bertel's post detailing General Motors deciding to "match supply and demand" for the Volt, let's all take another look back at a very memorable marketing initiative.
General Motors announced changes to the Chevrolet Volt's design after a NHTSA investigation into why a Volt caught fire following crash testing.
The changes will go into effect once production restarts at the Hamtramck, Michigan facility, but customer cars already sold will follow a different protocol.
Wamp wamp! That's the sound of the sad trombone playing for the Chevrolet Volt, which missed its 2011 sales target by 2,329 units. General Motors hoped that the Volt would sell 10,000 units in 2011, but it was not to be.
Bloomberg reports that the bow tie brand sold only 7,671 Volts in 2011, but has plants to increase annual production to 60,000 units annually. 45,000 of those will be sold in the United States. The Volt had only been on sale nationwide for the final three months of 2011.
Because electric cars represent the first fundamental technological shift for the automobile since its invention, their appearance on the US market has elicited quite a bit of skepticism. And as with any new technology, the first generation of EVs does have some serious downsides. For example, you can charge a Nissan Leaf at any outlet, but it takes 21 hours. Also, the Leaf's range that was once promised at 100 miles is typically under 70 miles in the real world. Plus, it's not exactly cheap. In the face of these challenges, you might think the Leaf, the first mass-market pure-EV in the US, would be forever doomed to a small niche of the market. But small compared to what? To give a real-world taste of how America's first pure EV is selling in the context of the broader market, here are the year-to-date sales numbers for the Leaf and 15 other vehicles that you might not expect to be selling worse than an electric car. Incidentally, all of these models are also selling better than the market's other pioneering plug-in, the Chevrolet Volt… which now has its own graph in the gallery below.
We have no wish to dampen enthusiasm for any new development in the light commercial vehicles sector but at this point the prospects for all-electric vans are fraught with difficulties, despite the clear operating advantages of using one for specific kinds of work
The Commercial Vehicle Monitor editor for the British residual value gurus at CAP, Tim Cattlin, tells Honest John that the new electric Azure Transit Connect has a few issues that fleet managers may want to look at before buying Britain's first electric van. To wit:
The £39,999 van is expected to have a value of £8,000 after three years and 30,000 miles, with CAP explaining that uncertainty over the unproven technology and expensive batteries are the biggest issues.
That's a 20% residual value after three years of driving 10,000 miles per year. Yikes! (Incidentally, if you drove the Transit for its entire 80 mile range every day for a year, you'd rack up about 30k miles in that year alone). The Azure Transit Connect is reportedly available in the US for $57,400, although Ford doesn't list a price on its website and production is said to only be about 600-700 units this year. Meanwhile, Ford had better hope that the residual value issues aren't linked to Azure's technology (which uses Johnson Controls batteries), because it's just announced a plug-in hybrid Super Duty Chassis Cab for 2013… with Azure as a partner and fleet businesses in mind. Better take a look at those projected residuals first, guys…

Between Nissan's Leaf racer and a new EV-only racing cup, electric auto racing has been coming along in recent months, although significant challenges remain. For one thing, batteries are still extremely heavy, and for another, they take a long time to recharge. Finally, thermal management issues conspire with both of these battery challenges to force EV races to be quite short. And in search of a solution, one team that's entered into the EV Cup is looking to the original EV racers for inspiration: slot cars. Rather than getting hot and heavy with big batteries, figures Drayson Racing Technologies, why not charge the car as it's racing at speeds upwards of 200 MPH? Luckily HaloIPT has come aboard the project, bringing its eponymous wireless Inductive Power Transfer technology to bear in order to create life-sized, wireless, slot-free slot cars.
(Read More…)