Categories:
This week, TTAC reader vaujot from Frankfurt am Main chimes in.
To start, you may wonder why I bought this car.
Looking like an Alfa-fied Elise, the 4C Spider loses its roof and gains a custom made exhaust by Akrapovic, best known for making very loud aftermarket systems. Sound's good to me (no pun intended).
Another day, another turnaround strategy from Sergio Marchionne. The plan, which won't be revealed until April, reportedly includes a rear-wheel drive architecture as a key element, with enough flexibility to be used in everything from Alfa to Dodge vehicles.
When it was first introduced, what we know today as the Ferrari Dino was a bit of a conundrum. Simultaneously a tribute to Alfredo "Dino" Ferrari, Enzo Ferrari's beloved deceased son, the first roadgoing midengine car from Ferrari, and an attempt to amortize costs between Ferrari and Fiat, which had bought the sports car maker in 1969, the Dino was also the first non-V12 powered car made by Ferrari and in fact it was not originally sold as a Ferrari. Dino was supposed to be a new marque for six and eight cylinder cars from the company, at a lower price point than Ferrari branded cars. That idea went away after the Dino 308 models, but the notion that the Dino was not quite a Ferrari sort of stuck to the car when it first came out. That the Dino had a DOHC V6 engine, designed by Ferrari to compete in Formula 2 but originally built in a Fiat factory to homologate it and shared with the Fiat Dino, a completely different car with, confusingly, the same name, didn't help matters. Dinos from Ferrari weren't cheap, about $13,000-$14,000 when new four decades ago, thousands more than a Porsche 911, and if my memory serves me well, they languished on the dealer lots and then stagnated in price once out of production. In the late 1970s, I'm pretty sure you could get them for used car money. At least at first.
Today Dinos are welcome at any Ferrari meet and it could cost you the price of a new Ferrari California to buy a 1973 Dino 246. Hagerty Insurance's price guide says that the average price of a 40 year old Dino 246 is $172,000.
I'm not here to talk about the Ferrari Dino, though. (Read More…)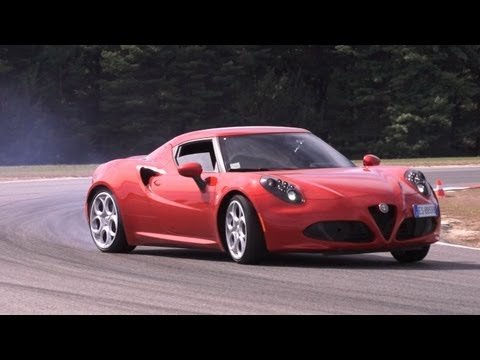 When a short news blog item based on a couple of tweets from a Road & Track writer attending the press launch of the Alfa Romeo 4C gets over 150 comments before the end of the working day, it's quite clear that there's some interest in the car among our readers. Chris Harris was also at the launch of the 4C and you can watch him get giddy with it in the video above.
According to Road & Track's twitter feed, the Alfa Romeo 4c, which the magazine is test driving, will arrive in the United States sometime in the second quarter of 2014 and will have a base price of $54,000. So far R&T reports that on the street the 4C has a very Ferrariesque character, while on the track not so much but that it's still very fast. At that price it will compete with the Porsche Cayman, though with an annual production of less than 3,000 units planned, it's safe to assume that some dealers may add on something to the price.
We all knew that the Alfa Romeo 4C was going to be light, but the recently announced curb  (looks like it's the dry weight) weight of 1969 lbs is unprecedentedly svelte in this era. That's the same weight as a Lotus Elise or a Volkswagen Up! That  237 horsepower turbo 4-cylinder doesn't seem so puny anymore, does it?
Are you a Fiat dealer looking for an Alfa Romeo franchise? Well, better hope you're doing solid volumes and are making your customers happy.
The first shots of the Alfa Romeo 4C have been released, and it's just as gorgeous as one would expect a mid-engined Alfa to be. A 1.75L turbocharged 4-cylinder and a 6-speed twin-clutch gearbox motivate the 4C. No horsepower rating has been released, but in current Alfas, the same engine makes 232 horsepower.  We'll have to wait for the car's debut at the Geneva Auto Salon for more details.