Find News by Subject:
With every mountain climbed, every river crossed, and every supermarket parking lot conquered since its showroom debut in 2006, the Toyota FJ Cruiser prepares to retire to the countryside in 2014.
Unless you pay a visit to Mr. Lang's lot on the right day or really love Volkswagen, the only wagons available for Americans today are mostly Teutonic, and all come with a high price tag. According to GM North American President Mark Reuss, that's a problem, and one he'd like to fix pronto.
To help celebrate the 100th anniversary of when Horace and John Dodge started selling automobiles in November 1914 under their own brand name after years of supplying Henry Ford with components and rolling chassis, Dodge is going to bring back a feature from its storied past, albeit from a period more recent than when Horace and John walked the floor of Dodge Main. The Chrysler Group's brand used the occasion of this year's SEMA show to announce that it will be making 1,000 special edition Challenger R/Ts with "shaker" hoods, as used in Mopar products during the golden age of muscle cars in the late 1960s and early 1970s. It's called a shaker hood because an engine mounted air intake protrudes through an opening in the hood and shakes from the torque as the engine rocks on its mounts. The limited run of cars will also come with an electronically operated exhaust dump, to allow a more free flowing, and louder, exhaust. Read More >
For those of us who love the Jaguar's F-Type's zazz but would prefer to keep the wind out of our hair (along with the rain, sleet and snow) on a more permanent basis, Jaguar now has an option for you.
Hyundai used the SEMA show to announce a new crate engine program starting in December that will offer the company's Lambda 3.8-liter, direct-injected V6 and Theta 2.0-liter, turbocharged 4-cylinder engines to aftermarket tuners at significant discounts over the cost of similar replacement engines.
The British publication Autocar says that it has seen a document from Morgan Motors that says that Charles Morgan, grandson of the founder of the company, was fired for four instances of misconduct. The authenticity of the document has been questioned, but if it is authentic, it verifies that Morgan's firing is at least partially the result of a dispute with family members. Read More >
Honda's rear-driven products built for two tend to be motorcycles, scooters and ATVs for the most part, but every now and again the company will unveil a roadster whose name begins with an S, and ends with the number of cubic centimeters the engine provides.
Such a car is set to return soon to the showroom floor, and will make its debut at the Tokyo Motor Show in November: The Honda S660.
Earlier this week, as I was looking for photos to illustrate my Vision of the Future, I stumbled across a photo of the Toyota i-Road, a three wheel electric vehicle that tilts its way through corners in the same was a scooter or motorcycle might. The i-Road debuted at the Geneva Motor Show in 2012 and despite what I am sure must have been a great deal of attention at the time, I had never heard of the vehicle. As I read more about it I found information about the Toyota "Ha:Mo urban transport system" that is currently undergoing trials in Toyota city and was stunned to find that, with a few notable exceptions, the program bears a striking resemblance to the future I had laid out in my previous article. The future, it seems, is already here. Too bad it is going to fall flat on its face…
In 1991, I came back from Operation Desert Storm with a pocketful of money from the several months I had spent aboard an oil tanker as a part of the USS John F Kennedy battle group in the Red Sea. Like many young men flush with cash I was determined to shoot the works as fast as possible and so before my jet lag had even abated I took my nest egg on a tour of the local low-end car lots in search of some real old-fashioned Detroit muscle. It didn't take me long to find something I liked, a well used 1969 Camaro with small block and a four speed, and I was ready to deal but the price on the windshield, $3200, stopped me cold. It was outrageous! Read More >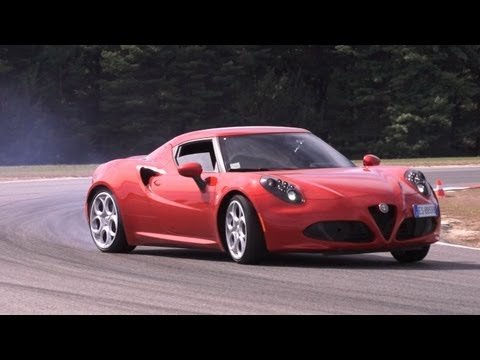 When a short news blog item based on a couple of tweets from a Road & Track writer attending the press launch of the Alfa Romeo 4C gets over 150 comments before the end of the working day, it's quite clear that there's some interest in the car among our readers. Chris Harris was also at the launch of the 4C and you can watch him get giddy with it in the video above.
Regular readers of TTAC already saw Justin Wheels Crenshaw and W Christian Mental Ward had a chance to attend the Abu Dhabi Drift School where the RWD Toyota GT-86 is the car of choice.
After sliding around like hooligans, we both had some opinions on them and continued the discussion at the Viceroy Hotel's "Taste of Atayeb" while overlooking Turn 18 of the Yas Island Circuit.
The first one that I bought was a Mustang #2
Nobody kept 'em any longer than they kept a pair of shoes
They started showing up at every used car lot in town
A V-8 on a go-cart, easy terms, no money down
- Daddy's Cup, Drive By Truckers
Props to Ford for including the Mustang II in its 50th anniversary celebration, featuring the much maligned little pony car in this video with Ford Racing's John Clor and his pristine 1977 Cobra II. The Dearborn automaker also issued a press release with the almost apologetic title "The Right Car At The Time: The 1974 Ford Mustang II". The Mustang II is the one Mustang people love to hate. Even Mustang enthusiasts will turn their noses up at a Mustang II. At the recent Mustang Memories show put on by the Mustang Owners Club of Southeast Michigan, with about 800 Mustangs and another 200 Ford powered cars in attendance, I was only able to find a single Mustang II, a '78 Cobra II that was immaculate. Said to be a glorified Pinto, and indeed originating with the Pinto platform, the Mustang II had the misfortune of being made during the so-called Malaise Era, when cars featured emissions control choked engines, battering ram 5 mph bumpers, tacky '70s interiors, and loud and large exterior tape and decal treatments. The truth is that the Mustang II wasn't a failure and that it was indeed the right car for the time. Read More >
Sometime around 1977, the little orange Opel Kadette wagon that had carried the Stork family through the lean times of the Arab oil embargo disappeared from its place above the truly enormous oil stain on their carport and a midsize Chevrolet two door arrived. The kids in our neighborhood were unimpressed. It was, to our eyes, just another in the long line of well used cars that Wayne had brought home and, while we had all hoped he would bring home something cool, we were disappointed that he had chosen a Chevelle. They were quite literally everywhere, most often driven by little old ladies who plowed the country roads below the posted 35 mph limit, and as such could not possibly be of interest to us. Even if it did have white racing stripes and a bulging hood with a little flapping door that opened and closed when you stepped on the gas, we were all in agreement that Wayne's most recent choice was a total disappointment.
"There's never enough time to do all the nothing you want." Bill Watterson's Calvin and Hobbes
 In 1992, I lived just outside of Kaiserslautern Germany. I was a year into my "practice" marriage and enjoying Europe as much as I could on $845.10 a month.
Like any good 21-year-old, I had dreams and goals, most of them delusional. The US Air Force was never plan "A," hell it wasn't even plan "B." I figured it might be time I decided what I was going to do when I grew up.
In the midst of my meandering through life trying to find my purpose, I decided I could be an automotive journalist. After all, I love cars, I love motorcycles and I can write (despite some evidence to the contrary.)
But how would I get there? Google was 5 years away and AOL was still figuring out chat rooms. No, back then you had to get your pornography and career advice via purely analog means. There was no entry in the encyclopedia on how to become an automotive writer. I didn't know any automotive writers and I didn't have family members "in the business." But I needed advice, so I reached out to the person that I admired most and I did so in the manner you reached out to people in those days. I wrote a letter.
I wrote to Peter Egan.
Last Saturday, the Toronto Sun ran a report on the McMillan family, a twenty-something couple with two young sons, who, worried about the amount of control that modern technology seemed to be exerting on their lives, decided to roll the clock back to 1986. They've packed away their i-phones, their tablets and their DVD players, disconnected the cable TV and turned off their internet to, according to the family's father Blair McMillan, parent the kids the same way they were parented. The ban on all forms of modern technology has worked its way into every aspect of the family's life and they recently completed a trip across the United States using only a paper map for directions and relying upon nothing more than coloring books and games to keep the kids quiet in the back seat. Somehow, they managed to make it home safe, sound and sane.